Ma'a Nonu's Blues defection from the Blues to the Highlanders excited an angry debate. Nonu spoke exclusively to Gregor Paul, who takes a different tack on Nonu's loyalty.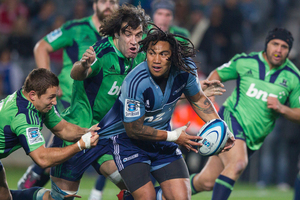 In time, the ill-feeling about where Ma'a Nonu is playing his Super Rugby will recede to be replaced by relief that he is at least still in New Zealand.
Last week wasn't his finest and, while he can't be exonerated for making a handshake agreement to join the Blues only to renege, the New Zealand Rugby Union have to be recognised for being complicit in allowing him to make the switch to the Highlanders. Ultimately, the national body didn't really care what franchise jersey he wore in 2013 as long as he was available to slip into a black one later in the year.
Whatever baggage he carries and however much, perceived or otherwise, he's been a disruptive element at the Hurricanes and Blues, he's been an almost squeaky clean operator for the All Blacks, the perfect formula of low maintenance/high yield. His talents can't rationally be disputed: Nonu brings momentum and presence - factors that remain crucial in a berth where owning the gain line means owning the game.
Maybe Sonny Bill Williams will come back to New Zealand in 2014, but until he does, Nonu remains king which is why the NZRU let him shift his court to Dunedin.
Nonu was never really in doubt about his desire to remain in New Zealand. Even when his old club, Ricoh Black Rams, a few weeks ago upped their offer to life-changing money, Nonu turned them down with little hesitation and even less regret.
His late change of heart about the Blues was certainly out of character. Few have had their loyalty tested like Nonu throughout a career that has known both triumph and disaster. He was effectively dumped by the All Blacks at two World Cups but swallowed his pride and became an integral member of the side that won the tournament last year.
He's been on the IRB Player of the Year shortlist and yet was axed by the Hurricanes in the same year; he was capped in 2003 but only became a regular selection in 2008.
He could hardly be called flaky: he's stayed through ordeals others would have long fled from and there is not a shred of doubt that the national side has a hold on his heart.
"There is just something special about this group and when you put that jersey on ... that is something I don't want to lose," he says. "That was the main factor really [in choosing to stay in New Zealand]. This jersey is something I don't take for granted. I am still passionate about this team."
He's especially passionate about the midfield partnership he has built with centre Conrad Smith. These two have become the Walter Little and Frank Bunce of the 21st century, maybe even better as last night they played their 39th test as a partnership which is considerably more than the 28 Little and Bunce played together.
Nonu and Smith are a pairing feared and respected the world over and Nonu feels they still have ample room for growth. He kept coming back to that last point as he weighed up his next career move.
At 30, he's getting to the age where he has to be careful about making assumptions about his form and fitness. But against that risk of suddenly feeling his legs go or his form collapse was the challenge of driving that partnership to another level.
He didn't enjoy June much where he had an enforced break from rugby and had to endure the sight of Williams in his jersey. Williams became the man of the moment - the man everyone was talking about. But after he departed, the All Blacks didn't skip a beat. Nonu and Smith renewed their partnership in a flash and the potency remained: the defensive clout sharpened and the rhythm and flow of the team improved.
The old guard were back and it's little wonder that the NZRU approved Nonu's decision to join the Highlanders. His value is huge: but the value of him and Smith together, is worth something much bigger again.
"We are lucky that we have played with each other for a long time," says Nonu. "Not necessarily in this jersey [All Blacks] - although I think we have been together in it now for about five years - but before that, with the Lions and the Hurricanes, we were together for about three years.
"We got together with the Lions in 2004 and, while we know each other, we still challenge each other. If I make a mistake, he's the one that picks me up. He makes demands of me and it's probably the same for me of him and that is the beauty of our relationship on the field.
"From where we started to where we are now - we have never taken anything for granted or become complacent."