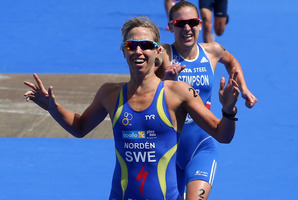 A poker face, resilient mind and unflinching body enabled Swede Lisa Norden to win the triathlon world championship after 12 hours of vomiting yesterday.
A planned holiday to the Bahamas and US$72,000 ($88,000) helped ease the agony of a trip to the hospital with suspected food poisoning - leading to 12 hours of illness from 9pm on Friday.
Norden summoned her utmost will to finish fourth. She could not stand for minutes afterwards. The 27-year-old collected US$12,000 ($15,000) for the race effort, boosted by a cheque of US$60,000 ($74,000) for the overall title.
German Anne Haug was the race winner after bursting to a 50m lead along Quay St with two kilometres to go. She came second for the season, earning an overall purse of US$75,000 ($92,000) for her day's work.
"It was a perfect race for me," Haug said. "I didn't want a sprint finish because the pace wasn't that fast. I thought: 'I can go hard in the last lap', so when there was a chance I needed to take it."
Gwenn Jorgensen (USA) finished second and Barbara Diaz of Chile finished third.
New Zealand's Andrea Hewitt finished seventh which meant she was third overall for the season. The 30-year-old collected US$39,400 ($48,000).
Norden showed a remarkable ability to internalise her pain. She was a picture of calm when introduced, waving to the crowd. Her face was inscrutable in the lead bunch through the cycle and run.
The result made up for her disappointment at the Olympic Games when she took silver behind Swiss Nicola Spirig in a memorable photo finish.
"I could not stop throwing up," Norden said of her build-up. "At 4.30am I took a taxi to the hospital and got an anti-nausea injection. I tried to recover as good as I could. I can't believe I'm world champion. I did the swim warm up, that felt okay, so I thought I'd have a go.
"I knew I needed to be in the lead group, that was on my mind the whole time even when I was cramping in the finishing chute. I couldn't run properly but I knew once I got across the line there was a world championship on the other side."
Norden's key rival for the title was championship leader Erin Densham of Australia. She pulled out midway through the bike leg as a fortnight of flu overcame her. "You can't hide if you haven't done the work," Densham said. "My body's telling me it's time to have a rest and obviously it came an hour and a half earlier than I would have liked.
After the swim the reverse lights went on.
"I wouldn't have raced if the world title wasn't on the line. A coach I trust and respect told me to stop. I was in two minds but it is a hard decision to make when you're out there."
Hewitt, who won the world cup event in Auckland last year, said a poor transition from the bike to the run cost her.
"Fortunately, the pace wasn't on from the beginning, I caught up pretty easily but the last lap took it out of me. I wasn't at the front coming in and as I ran to rack my bike there were five more racks in front of mine; I didn't realise, so I ran past and had to go back. I lost about 10 seconds."
The swim required more exertion than usual. The swimmers faced difficulties beyond the shelter of Cook's Wharf into rougher water.
Hewitt says the swim got tough: "Rounding the buoys it got a bit choppy. I had a good first lap but got stuck and pulled back a bit. I came out 10th and made front group [of the cycle]."
Fellow Kiwis Kate McIlroy, Debbie Tanner (in her final race before retirement) and Nicky Samuels came eighth, 28th and 29th respectively.