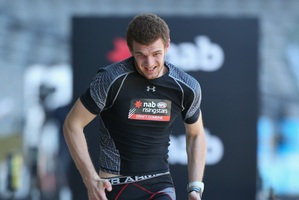 Former New Zealand age group basketball captain Kurt Heatherley has made giant strides towards establishing himself as an Australian rules footballer this season.
In 2009, Tauranga-born Heatherley, the national under-14 captain, became the first AFL international scholarship player from New Zealand to be listed with the Hawthorn Football Club. Such has been the Bay of Plenty teenager's progress that he could be elevated to international rookie status next year, giving Heatherley (now 17) the perfect platform to make his AFL debut in 2014.
AFL national talent manager, Kevin Sheehan, was impressed by Heatherley's athleticism after watching the teenager finish second in the 20m sprint in 2.84s, at an AFL draft camp in Melbourne last week.
"Hawthorn have got a beauty, I reckon," Sheehan said. "[National recruiting manager] Graham Wright heads up their recruiting, he's the one that's been brave enough to sign Kurt Heatherley and they're going to have to wait until the end of next year ...
[but] I reckon there's one sitting there beautifully that can play in the AFL the year after."
Standing at 195cm and 83kg, Heatherley played a handful of games for the Sandringham Dragons in the TAC Cup - an under-18 regional competition - towards the end of this season. His talent was evident against more experienced opponents.
"Kurt was spotted playing basketball but Hawthorn were also aware of his ability in rugby and cricket and his selection in various New Zealand talent squads in both of those sports," Sheehan said. "He was initially recruited as part of an experiment to see if athletic players from other sports could learn to play Australian rules.
"For the past three years, the AFL has allowed clubs to sign players on international scholarships from the age of 15. Kurt made a big impression in January when he played for an open-aged New Zealand side against the Australia under-17 team of top level academy players in Wellington. That game was the first AFL match between the two countries and Kurt was outstanding against more experienced and bigger players."
Heatherley, who is studying at Melbourne's Caulfield Grammar School, was recruited as part of a talent identification agreement between Hawthorn FC and AFLNZ, also represented the Western Bay of Plenty and Waikato regions in the New Zealand national basketball championships; winning the Most Valuable Player award three times.