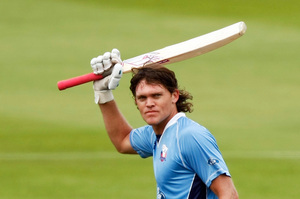 Auckland Aces' Champions League batsman Lou Vincent wants to cap a surreal last 12 months by returning to play cricket for New Zealand this summer.
He's played tape ball cricket in Pakistan, eaten pizza with former team-mate Chris Harris' family in Zimbabwe, convinced Olympic rowing legend Sir Steven Redgrave to demonstrate his sport using a packet of biscuits and two plastic spoons at the kitchen table and been fleeced for £10,000 by a Scottish conman. He hopes an international reprieve is next.
However, Vincent's chances appear slim, in spite of his encouraging form for Auckland in the Champions League in South Africa.
His 34th birthday looms next month and New Zealand coach Mike Hesson seems intent on developing his relatively youthful squad. However three of Vincent's four innings have resulted in useful opening cameos against quality international limited overs bowlers like the West Indies' Sunil Narine, Bangladesh's Shakib Al-Hasan and England's Dimitri Mascarenhas.
He has compiled 75 runs at a strike rate of 150.
That's given team-mates Martin Guptill, Azhar Mahmood and Anaru Kitchen breathing space to conduct three successful chases against Pakistan's Sialkot, England's Hampshire and India's Kolkata in South Africa. Vincent's fielding has also been strong. Hampshire opener Michael Carberry felt the impact when he holed out at long on against Auckland. Vincent ran in, realised he was running the wrong way, back-pedalled and plucked a one-hander overhead like it was one-hand, one-bounce in the school yard.
Ever the prankster, Vincent has also created a stir by taking a Justin Bieber doll on tour, a ploy he says is designed to lure younger fans to the cricket. The Bieber doll has so far fronted at press conferences and appeared on the luggage conveyor belt, at the hotel pool and up Cape Town's Table Mountain.
Vincent left New Zealand cricket under controversy in 2007 after joining the unsanctioned Indian Cricket League. Since then he has suffered depression, gone through a divorce , been Hong Kong batting coach and founded Lou's Wacky Woodworm Wagon Adventures (whereislou.co.uk). The latter involved driving a campervan across England to play festival matches and promote mental health awareness through the Mind charity.
Vincent is looking to do something similar this summer in New Zealand when Auckland commitments do not interfere. As he told the Herald on Sunday: "That charity is close to home. I want to get behind something where you can make a difference, like Sir John Kirwan did with mental health awareness. Managing mental health is as important as managing physical health, like going to the gym. The biggest message is build solid bonds with family and friends."
"I can now play international cricket again but also have the tools to reach out to people with the charity angle. I want to do this to the best of my ability, climb that ladder again in the public eye, play some cricket in a positive way. I want to play cricket for New Zealand again and leave a footprint at the end of my career so others are inspired to achieve, no matter how far away it feels."