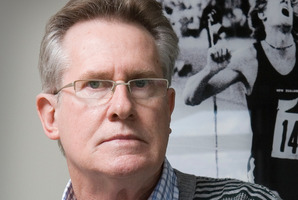 Auckland is expected to be awarded a regular triathlon world championship series event, to the delight of one of our greatest runners.
Auckland councillor Sir John Walker attended yesterday's women's elite grand final race on the waterfront. The former world mile record holder and Olympic 1500m champion urged the city to bid for more such spectacles as crowds billowed from Queens Wharf into the central business district, re-enacting scenes from the Rugby World Cup.
Sir John's wish could come to fruition in the next few weeks. Triathlon NZ is working through the details of a potential multi-year deal with the International Triathlon Union and management company Upsolut Sports. It would involve hosting the first race on the international calendar in April.
"I'm ecstatic," Sir John said. "Auckland in the past has been a bit reserved but we're finally getting our act together, realising the promotion of sport can bring a city together.
"It follows on from the rugby and the recent V8s decision (to return to Pukekohe). There's always opposition from some councillors and the wider public but you look at how many people are enjoying themselves - that's what it's about, celebrating Auckland. Years ago you couldn't run an event like this because the council and Ports of Auckland would've closed it down."
Sir John said the triathlon world championship grand final was a triumph for reducing red tape. "Yes, it's an inconvenience for some. People bitch and moan because they can't drive their cars here but I'd like to see this once a year. There's been a lot of effort, the crowds are here, why not keep it going?"
Triathlete Andrea Hewitt, whose seventh place yesterday ranked her third overall for the season, hinted a decision is in the offing.
"I think it starts in Auckland again next year so I will have a break of about a month and will carry on. Auckland's a tough course; it would be cool to start here."