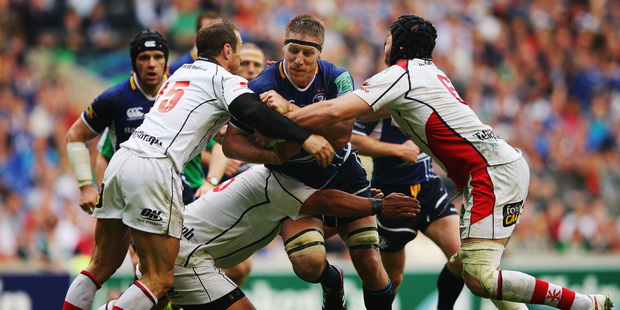 What was once unthinkable may soon become not so unusual with Brad Thorn and English lock Simon Shaw seemingly determined to be playing professional rugby at 40.
The giant Shaw, who has just turned 39, is a regular pick for Toulon where he will continue to play until June next year. Thorn, a veritable pup by comparison at 37 (he turns 38 in February) looks just as capable of chugging on.
Less than a year ago Thorn led a blitzkrieg effort by the All Black pack in the semifinal of the World Cup. Even in April and May this year, he arrived at Leinster on loan and added the crunch the Irish pack needed to win the Heineken Cup.
Thorn is coming to Dunedin on a one-year deal in 2013 but that could be extended, especially as Highlanders coach Jamie Joseph has little doubt he's signed a man who is defying his age.
"Brad is a very competitive athlete and from what I saw in Japan recently he is still playing rugby at an international standard," said Joseph in confirming that Thorn was coming to the Highlanders.
The idea of a professional 40-year-old remains difficult to grasp. The high impact, full-throttle nature of the game tends to make it the domain of the younger, more elastic athlete.
The constant collisions, injuries and demands make it challenging for players to build longer careers. The natural inclination is to see the likes of Thorn and Shaw as anomalies - their longevity down to freakish genes and incredible luck.
But, while the game's explosive power rises and the combat becomes more extreme, conditioning programmes evolve with equal speed, as do concepts on recovery and athlete management. The two sides of the equation stay just about in equilibrium although maybe the balance is if anything slightly tipped in favour of the sports science world.
Could it then be possible that as long as players avoid being chronically injured, their improved aerobic capacities, flexibility and power base may enable them to play for longer?
"In some positions, yes," says Nic Gill, the All Blacks conditioning coach. "In those positions where the players don't require outright speed, we will probably see some older athletes come through. We have already seen three centurions and I suppose the challenge is to make sure that the young athletes are physically maturing through all the rugby that is thrown at them.
"We have got great structures in our academies and even in out schools now, we are starting to see them develop players physically and, as long as that keeps being done well, we may well see older athletes. If you look at our tight forwards at the moment, we have got a few over 30 in this team - Andrew Hore, Keven Mealamu and Tony Woodcock so we are already beginning to see a bit of that [older players] now."
Current thinking is going to have to evolve. Who knows, in time it may not be such a big deal for players to win 100 test caps. Maybe it will be 150 or even 200 that become the landmarks to celebrate.
That's not that fanciful: take Owen Franks, he'll most likely win his 50th cap before he turns 25. He could, at this current rate, have 100 by the time he's 29 and as a tight forward, and one who is especially well-conditioned and careful, he could play well into his late 30s.
It's a difficult mind shift to make but one that may have to be made, certainly for tight forwards where speed is not imperative. Strength is a facet many players can continue to improve throughout their career.
"Everyone is different, everyone has different [training] years, different backgrounds physically. Some people don't get stronger. Some people don't get fitter - it just depends on where they are at and often injuries can be a real factor in that."
For positions where speed is a factor, the key to longevity lies in not becoming too big. Gill says the goal is to build to strong, relatively lithe athletes: "We have probably seen that some people have been able to get too big and have lost that gas that got them where they were in the first place."