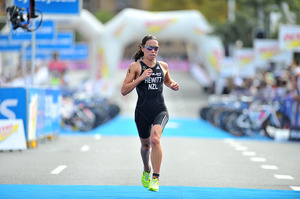 Calculators will be whirring today when the elite women's race in the world series triathlon grand final finishes at Queen's Wharf.
But if New Zealand's big hope Andrea Hewitt is to go one better than her second placing overall last year, the two series leaders, Australian Erin Densham and Swede Lisa Norden, will need to have, by their lofty standards, a poor day out.
Densham and Norden, Olympic bronze and silver medal winners in London in August, are separated by a mere 30 points at the top of the standings going into the eighth and last event of the world series.
The strong likelihood is one of them will be crowned queen of the sport.
For Hewitt - who won the grand final in Beijing last year but fell 187 points short of Britain's Helen Jenkins for the overall crown - to go one better, she'll not only need to win today, but have Densham and Norden both finish around seventh or eighth. One is a possibly; two would seem a stretch.
"I can't control what the other girls are going to do," the Christchurch athlete said yesterday.
"I just have to do the best I can, but I'm feeling pretty good and it means a lot to me to do well. It's a tough course; it suits me."
Expect Densham and Norden to at least be keeping half an eye on each other today. The key is this: Norden will overtake the Australian by 60 points if they finish 1-2 in that order today. If Densham wins, she can't be caught as overall winner.
"I definitely think the bike course is going to make a big impact on the run," Norden said.
"It's not going to be such a fast and furious run and you could get that spread out field where everyone is fighting for survival to get to the finish line. I'm very excited. It's a very fair bike race for everyone."
She might also be excited because Norden rates the cycling leg - 40km with three demanding climbs on each of the eight laps - as potentially her best discipline.
Tomorrow's men's final is more clearcut. Britain's Jonathan Brownlee, leading Spain's Javier Gomez by 180 points, will be crowned champion should Gomez win, providing he finishes no worse than third. A first-fourth scenario would enable Gomez, world champion in 2008 and 2010, to pip the Yorkshireman by 70 points.
For Brownlee, it would mean joining his absent older brother Alastair as a world champion and cap off a fabulous year in which he also won an Olympic bronze, behind Alastair and Gomez.
"I think it's a great course," Brownlee said yesterday.
"One of great things about the world series is you experience different courses. I like hard courses. This suits me."
Gomez was similarly upbeat about what lies ahead tomorrow and certainly there were no signs of apprehension at the top table press conference yesterday.
The weather hovers like a black cloud. The forecast for tomorrow is grim, winds and rain. That will necessitate care on the bike leg.
Amid the speculation of the course throwing up the prospect of some surprises, don't expect a bolter to triumph in either race.
There's a reason why the likes of Brownlee, Gomez, Russians Alexander Bryukhankov and Dmitry Polyanski, Densham, Norden and Hewitt will be the leading contenders; they are the best at this game, along with absent Olympic champions Alastair Brownlee and Swiss Nicola Spirig.
On a busy weekend at the Barfoot & Thompson-sponsored finals, a solo fun event, the 3:5:3 - a 300m swim, 5km bike ride and 3km run - aimed at giving athletes a chance to experience a world champs course, starts activities.
The under-23 world championships flank the women's elite race today; the teams 3:5:3 and junior worlds are on tomorrow around the men's elite race.
The championships conclude with the age group sprint and Olympic distance events and the Paratriathlon worlds on Monday afternoon.

Standings
Men
Jonathan Brownlee (Britain) 3825; Javier Gomez (Spain) 3645; Alexander Bryukhankov (Russia) 3285
Women
Erin Densham (Australia) 3611; Lisa Norden (Sweden) 3581; Andrea Hewitt (NZ) 3141 (note: Switzerland's Nicola Spirig, 3264 points, is not competing)