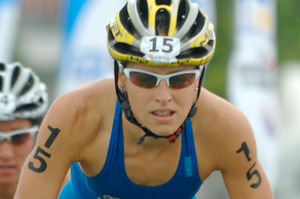 As she strove towards the finish of the Olympic triathlon in London, Erin Densham had a thought rush through her head.
There she was in a group of four, and three medals were on offer.
"I was 'oh gosh we've medalled at every Olympics and I've got to get this medal'," Australian Densham said yesterday.
She got the bronze in a thrilling finish, to follow Michellie Jones (silver, Sydney), Loretta Harrop (silver, Athens) and Emma Snowsill and Emma Moffat (gold and bronze, Beijing) in enhancing Australian women's formidable reputation in triathlon. How strong is the sport among Australian women? Strong enough that Snowsill missed selection for London, and the chance to defend her title.
"I don't know where it comes from that we just seem able to dominate," said Densham, a diminutive, Victorian-based 27-year-old.
Her background had been swimming and cross-country, "and I thought it can't be too hard to ride a bike".
"I had no idea of the history of the sport at all. Now it would be nice to put myself in the history of it."
Three years ago, Densham's chances of making a significant mark on the sport were problematic. She was pulled from the water in an event in Des Moines, Iowa. A rare heart condition, supraventricular tachycardia, which produced a racing heartbeat, was detected. Surgery late in 2009 corrected it.
This has been a stellar year for Densham, who was battling a throaty cough yesterday. She's had wins in Sydney and Hamburg on the world circuit and goes into today leading Swede Lisa Norden by a slim 30 points.
And to those who are surprised by her performances, Densham isn't.
"I knew I had this level in me. It's always been there. It was just a matter of being fit and healthy and getting in consistent training without any interruptions.
The results are the proof of her talent. Densham's not getting wound up in calculations for today. "I've had other people do the calculations. I'm not interested in numbers really."