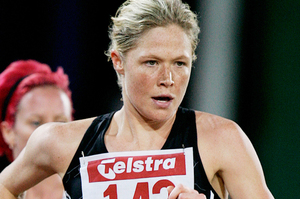 One Olympics has just gone, but Kate McIlroy's eyes are already turning towards the next in 2016.
McIlroy goes into today's women's world triathlon series final in 11th place on the rankings, confident of putting in a strong performance and armed with a feeling of unfinished business in the sport she took up just three years ago.
She finished 10th - 1min 40s behind winner Nicola Spirig of Switzerland, at the London Games in August and walked away satisfied, given a rocky buildup, when she'd been hampered by a calf injury.
"In saying that I know I can do better. I did the best I could with the time I had [to prepare]," she said.
Andrea Hewitt, winner of last year's Auckland leg of the World Cup and ranked fourth going into today's Barfoot & Thompson-sponsored race, is New Zealand's best chance of getting on the podium.
McIlroy has the potential to surprise.
She likes the hilly layout, rates herself an athlete suited to it and is determined to make the most of the home event.
"It's more of a strength-based course and is going to suit a different type of athlete [from London]. It will test bike strength and fitness more."
McIlroy was a talented runner before making the switch to the swim-bike-run discipline in 2009, good enough to win a Halberg Sports Woman of the Year award in 2005 for winning the world mountain running title.
"I've never regretted [changing sport] for a minute. It's been a lot of hard work and it's taken me longer than I thought it would to get the level I'm at. But I wish I'd done it earlier."
At 31, McIlroy, is relishing the idea of being in Rio in 2016.
"I don't think I'll be satisfied to stop the sport until I've reached my potential. I know I've got a better run in me. I don't want to have any regrets. It's exciting and if I can keep going until Rio that'll be awesome."
She intends turning her attention to putting plenty of mileage into her run, having been happy with progress on her swim and bike legs.
Although the run section is her favourite, she rates her cycling as the best part of her game right now. And, given the Auckland layout, what better time to feel that way with 24 climbs over the 40km cycle leg ahead today.
"You've got to be really aggressive just to get up the hills. That in itself may be enough to force a split on the bike. There's a degree of how much you can do on the bike without affecting your run too much."
McIlroy, sixth in last year's grand final in Beijing, appreciates the incentive of performing at home.
"It's pretty special having it during your time as an athlete, especially having the Olympics this year. It's such a peak, then have to turn around and pick yourself back up, it's been so much easier knowing the world champs are at home, so much more motivating, and really cool for the sport."