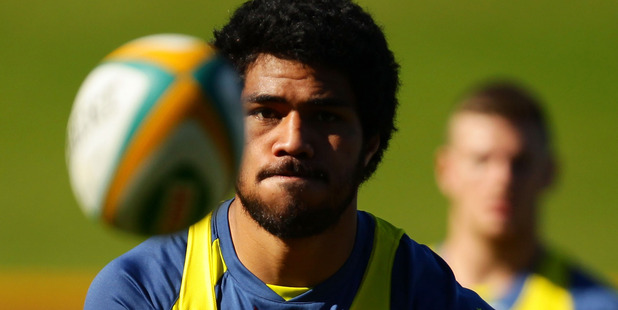 Towering Tongan lock - and ardent Lomu fan - will be doing his part to shut out the black jerseys tonight
Many things strike you about Sitaleki Timani.
He has played a variety of sports with significant effect and he has been involved in a number of Australian franchises. Just to top that off, he is a massive lump of Tongan athleticism, standing at 2.03m and weighing 120kg, with a frame which is a shade bigger than his idol Jonah Lomu.
The pair have run into each other a few times.
Timani was in the crowds in Tonga when Lomu was paraded through the streets after he made his reputation at the 1995 World Cup.
"I ran away from school to see him because he was such a big hero then," Timani recalled. "He is still the man. I don't know if anyone can do the things he did."
They have met at Auckland airport and in Sydney this year when Lomu came to the Wallabies' hotel.
While Timani has his hero, the 26-year-old lock is starting to make his own impact.
It has been a long and winding route to international rugby. He represented Tonga as an age-group soccer defender or goalkeeper and played some rugby when he attended Auckland Grammar for two years on a scholarship, before shifting to Australia.
He was ineligible on residential grounds for Super rugby so spent several seasons playing league for Cronulla on Ricky Stuart's watch.
"I think I was the biggest man in rugby league then when I played second row," he recalled. "I went to Australia to play rugby but had to wait to qualify, that was the rule then."
Once he got back on the rugby trail Timani played for the Perth Spirit, then several seasons with the Brumbies before heading to the Waratahs.
"I think I must be a slow developer," he said.
"I was not getting that much opportunities and it took me a while to pick up my game. Now I just love it and playing for Australia has been a dream."
Timani credits Waratahs coach Michael Foley for delivering him the right messages about lineout, scrum and tight five work.
The next message was even better when Robbie Deans called to talk him through starting his test career with the Wallabies.
He made his debut last year against Samoa, a decision which ruled him out of certain selection for Tonga at the World Cup.
Timani missed the Wallaby squad for that tournament but now is a key member of the team.
"I think I have learned a bit now about how things happen. I like the physical part of rugby, the cleaning out and those things which help the possession," he said.
Timani played in Sydney and Auckland against the All Blacks and, like his teammates, is grateful they get another shot at trying to halt the black-jerseyed march.
"This is our chance and I rate us pretty high. I am confident that if we are cohesive we can do it. We have nothing to lose, this is a home game and we have a good chance."