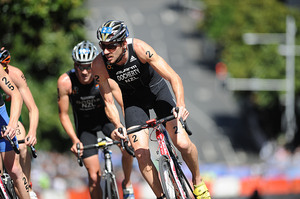 After struggling in flat conditions at the London Olympic, Bevan Docherty can't wait to turn the tables on a hilly Auckland course he helped design.
Docherty may be out of the running to take the world championship title heading into this weekend's Barfoot & Thompson world triathlon grand final, but he has no shortage of motivation.
There's the desire to improve on his disappointing 12th place showing in London, plus the fact it could be his last event over the shorter triathlon distance before moving into the ironman discipline.
If it is his swansong, Docherty couldn't have picked a better place to bow out. Not only will he be racing in front of his home fans one last time, but he will be doing so on a challenging course that will test the athletes' ability to climb on the bike and stay with aggressive runners.
Unlike London, which turned into a 10km straight sprint, and unlike many of the other seven races on the circuit, Auckland should provide more twists and turns - something which suits Docherty to a tee.
"I've always wanted courses like this and, for me personally, it's been quite frustrating; the limited hard courses that the series has had," Docherty said.
"I'm pretty sure the guys are excited for the course and feel the same. It just makes it a bit tougher and certainly more spectator-friendly. I'm glad the organisers listened to what the athletes were asking for and put together this course."
Docherty was non-committal towards his future in the sport, but did think the end was nigh.
"I'm really not too sure what I'm going to be doing. I know I'm focusing on multisports but there's still that desire to race in these events. There's a race in San Diego next year which is just down the road from where I'm currently living so, who knows, if training is going well I might give that a crack.
"But London was certainly my last Olympic campaign, and now I'm just excited about the future."
With Docherty on his way out and Kris Gemmell following, the most recognisable face in New Zealand triathlon is now Andrea Hewitt.
She, like Docherty, is suited to the hilly conditions this weekend but, unlike Docherty, Hewitt still has an outside chance of being crowned world champion.
Hewitt currently sits in fourth position after seven events and will probably need a win, along with favourable other results, to take the overall title. If she does take line honours in Auckland, Hewitt also needs Erin Densham (Australia), Lisa Norden (Sweden) and Nivola Spirig (Switzerland) to finish outside the top five to emerge triumphant.
Hewitt won the grand final last year and was quietly confident of repeating that feat on her home course.
"I hope so, I'm feeling pretty good," she said. "This is a race in my home country so it means a lot to me to do well here.
"This tough course suits me as well, so hopefully it will be a good one."
- APNZ