PR stunts, saucy sponsor, the real sauce and bad calls all round on and off soccer pitch.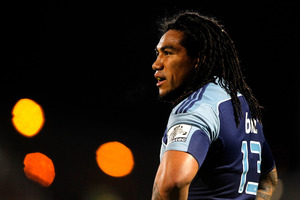 Ma'a's PR stunt
Could the Ma'a Nonu defection be the greatest PR stunt the previously unsympathetic Blues have ever pulled? Overheard on a bus winging its way into the city, an immigrant, possibly of Cantabrian extraction, turned to his mate and said: "You know, for the first time in my life I feel sorry for the Blues." His mate just nodded non-committally.
More intriguing PR
One time only! Signs seen throughout Brisbane CBD last week: "Come see the Bledisloe Cup and meet the Wallabies." A true rarity for Australian fans to get a glimpse of the big cup which has been in New Zealand hands since 2003.
Where's AIG when you need them?
A cash-strapped Greek soccer team has signed sponsorship deals with two brothels to help pay the bills.
Players have been forced to wear bright pink jerseys at training sessions emblazoned with the logos of the Villa Erotica and Soula's House of History, a pair of pastel-coloured bordellos recruited to sponsor the team after drastic government spending cuts left the country's sports organisations facing ruin, AP reported.
One team took on a deal with a local funeral home and others have wooed kebab shops, a jam factory and producers of Greece's trademark feta cheese. But the small amateur Voukefalas club which includes students, a bartender, waiters and pizza delivery drivers is getting the most attention for its flamboyant sponsors.
"Unfortunately, amateur football has been abandoned by almost everyone," said Yiannis Batziolas, the club's youthful chairman, who runs a travel agency and is the team's reserve goalkeeper. "It's a question of survival."
Special sauce
An American man has sold a 20-year-old container of Michael Jordan-branded McDonald's barbecue sauce for US$10,000 ($12,000) on eBay.
The sauce was used on McJordan Burgers, named for the basketball icon, which were sold in limited markets for a short time in the 1990s, when Jordan led the Chicago Bulls to six NBA championships.
Mort Bank, a former owner of a McDonald's in North Dakota, saved the gallon (3.8 litre) jug of sauce after selling the restaurant in 1996.
It sold for US$9995 to a buyer from Chicago.
Bank told the Chicago Tribune the buyer was not Jordan himself. Jordan opened a steakhouse in Chicago last year.
"I'm sure he's a Bulls or Michael Jordan fan, and hopefully he's not going to put it on his ribs or his burger," Bank told KXMB-TV of the buyer. "But it's up to him; he can do whatever he wants with it."
Bad call
A French TV host has apologised after commenting on a digitally altered image of a Japanese goalkeeper with four arms and making a joke about the "Fukushima effect".
Laurent Ruquier made the ill-advised gag following Eiji Kawashima's strong performance in a 1-0 friendly victory over France.
Japan's chief Cabinet secretary Osamu Fujimura called Ruquier's remark, a reference to last year's nuclear crisis in Fukushima, "inappropriate" and that it "hurts the feelings of people affected by the disaster and hinders efforts for reconstruction".
Kawashima, who plays for the Belgian club Standard Liege, was targeted for abuse while playing for Lierse SK during a league fixture last year, when opposition fans chanted "Kawashima, Fukushima!"
The referee temporarily halted play following protests from the player, who was reportedly in tears after the match.
Say what?
Racism continues to be a blight on soccer's reputation following reports that Serbian crowd members racially abused England under-21 player Danny Rose throughout his side's 1-0 win on Wednesday.
After having coins thrown at him and monkey chants echoing the ground when he touched the ball, Rose lashed out by kicking the ball away on the fulltime whistle, for which he was sent off, which led to a brawl between the two teams.
A statement by the Serbian Federation denied any wrongdoing saying: "Danny Rose, behaved in inappropriate, unsportsmanlike and vulgar manner towards the supporters on the stands at the stadium in Krusevac."
Meanwhile ...
In Romania, Steaua owner Gigi Becali denies racist leanings: "Nobody's nicer to gypsies than me. And I have nothing against blacks - sorry, 'African-Americans'.
"I just don't sign blacks because they're not suitable. They don't play well in our weather."
THEY SAID IT:
"I'm not normally like this."
- Independiente Santa Fe's Gerardo Bedoya after receiving his 41st career red card for elbowing an opponent then kicking him in the face.
"I've always said that I don't want two roosters in the hen house."
- Ferrari president Luca di Montezemolo denies rumours that Red Bull's Sebastian Vettel will join his team.
"Everybody wants to know what I'm on. What am I on? I'm on my bike, bustin' my ass six hours a day. What are you on?"
- Lance Armstrong in an ad for Nike in 2001.
"Suffice for me to say he's so exceptional I'd pay to watch him train."
- Harlequins boss Conor O'Shea talks up former All Black first-five Nick Evans.
"I'm worried I sound like Borat a lot!"
- England lock Nick Kennedy on taking French lessons after his move to Toulon
"I've had a few phone calls from people leaving messages and you can tell it's not for me, it's for the proper Jimmy Adams."
- Hampshire's Jimmy Adams on being associated with former West Indian player Jimmy Adams.