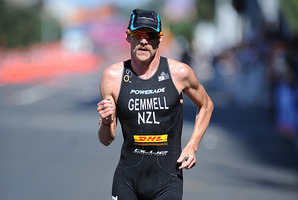 Kris Gemmell is convinced: the winners of this weekend's elite world triathlon finals will be the best overall exponents on the planet.
That's not always the case, where courses can favour one discipline to a degree.
But having had a hand in designing the layout for the world series grand final of the ITU event, along with fellow leading New Zealander Bevan Docherty and organising chief Dave Beeche, Gemmell is happy they've produced a course to test, and find, the best of the swim-bike-run game.
"Whoever wins on Saturday and Sunday - and the age groups for that matter - will be the best and that's good for our sport," Gemmell, the world No15 who won the Auckland men's event last year, said.
"Everybody's had to change their training, they have to come with a little more strength and speed, and power, and it'll help our young athletes understand this is a real course."
The key for the layout is Auckland's topography. Most other venues on the world circuit don't have hills and significant undulations in the centre of the city. Basing the event in the heart of cities is one of the prerequisities for selection as a host. Other cities can tick the boxes for atmosphere and bigger numbers of spectators, but Gemmell believes Auckland is unique in that one respect.
The decisive leg is likely to be the middle bike section. The elite, and under 23, athletes will climb Shortland, Wakefield and Victoria Streets eight times. Gemmell reckons athletes need to think about what they're doing, and when they're going to try to hurt their rivals. There'll be no hiding.
"If you ride up Shortland Street in front at 600 watts, the guy three or four behind you is going to be riding the same watts you are. If you ride along the flat on Quay Street at 300 watts, the guy behind might only be riding at 150, because he's saving energy and can be blocked from the wind.
"The fact there's more hills, more corners, more changes of elevation up and down mean even if you're sitting behind you aren't saving as much energy as you would on a lot of other courses we do."
The earlier a rider can show up a rivals' weakness, the earlier they can have them hurting - "and the earlier you make them hurt the more they're going to suffer".
Coming up with the design was relatively straightforward. Making it visually appealing for spectators played an important part in the thinking. "It's about spectators getting a feel for being involved in a race.
You can stand on Shortland Street, encroach on the road and only have to move 50 or 60 metres [down to Queen Street] to see the run," Gemmell said.
Ones to watch out for ...
Jonathan Brownlee (Britain)
The series leader and London Olympic bronze medallist is the guy the others will be watching. There's a reason the 22-year-old from Yorkshire is almost 200 points clear of his closest rival. Brownlee picked up early wins in the eight-race world series, with victories at San Diego and Madrid in rounds two and three. A further win in Stockholm in August and a second at Kitzbuhel have put the history student from Leeds in the box seat.
Javier Gomez (Spain)
It's appropriate that two-time former world champion Gomez is second behind Brownlee. His has been a season of seconds, with that placing alongside his name in the last four ranking events. How good is the 29-year-old from Basel, Switzerland? He's been in the top 10 68 times in his 73 ITU events, having overcome a cardiac anomaly which threatened to nip his career in the bud nine years ago. He was fourth at the Beijing Olympics and second in London.
Alexander Bryukankov (Russia)
The Russian, third in the rankings, is still waiting for his first world series win, after five silver and one bronze finishes, the most by an athlete yet to record a victory. At 25, he was consistently strong through the year without getting to the line first. Time to break his duck?
Bevan Docherty (New Zealand)
Ranked No 14, New Zealand's veteran is having his last tilt before moving into longer distance racing. He helped design the course; it'll suit him, and the other home athletes. He's unlikely to win it, but expect a bold effort. He won't want to step away on a bum note.
Kris Gemmell (New Zealand)
Durable competitor, won the Auckland race last year, ranked No 15, and also starting to come towards the end of his elite tri days. The course layout won't hurt him - he had a big say in its development. If a New Zealander is to make the podium it could be him.
Women
Erin Densham (Australia)
The Olympic bronze medallist, Densham holds a slim 30-point lead over Lisa Norden. In 10 ITU races this year, the 27-year-old from Camden, south-west of Sydney, has placed seven times. Continues the tradition of formidable Australian athletes. Densham could cap a stellar season tomorrow.
Lisa Norden (Sweden)
Came within a blink of Olympic gold in London in one of the tightest finishes of the games. Her country's first Olympic medallist in the sport. She was an equestrian rider who took up triathlon 10 years ago to keep active while her horse was injured. Wins in the last two events at Stockholm and Yokohama in the last two months make her a form contender.
Andrea Hewitt (New Zealand)
Won in Auckland last year and is fourth in the rankings. She's had a couple of thirds in the series and was sixth at the London Games. She's finished third and second overall in the last three years. The Christchurch 30-year-old is New Zealand's best chance. Certainly has the talent to have the home crowd roaring tomorrow.
Anne Haug (Germany)
Three fourths and a second in the series point to a consistent performer. The Sudoku-loving 29-year-old from Bayreuth has a degree in sports science and took up triathlon nine years ago. Fifth in the rankings.
Emma Moffat (Australia)
One of Australia's cluster of outstanding female triathletes, two-time world champ Moffat won bronze at the Beijing Olympics. The 28-year-old from Moree in New South Wales has had an up-and-down world series. Sits sixth in the rankings. Always puts her left sock on first and shouldn't be hard to spot - she always races in pearls.