Kiwi says aquathlon title ideal warm-up for Saturday's main elite triathlon final.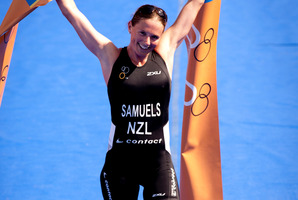 It came at 4.17pm yesterday, preceded by the words "... representing New Zealand ..."
Perhaps it will be the only time the national anthem rings out during the busy week of the world triathlon grand final series. But for Nicky Samuels, victory in the world aquathlon championship yesterday at Queen's Wharf, and then hearing God Defend New Zealand in her honour, was just the ticket as she winds down her preparation for Saturday's elite grand final at the Auckland waterfront.
The event was primarily for the multitude of age group categories; entries in the elite, under 23 and junior events were small.
Samuels won the 1km swim-5km run in 33min 02s, ahead of Ireland's Emma Davis, who crossed in 34:23 with Croatian Tea Milos third. Slovakian Richard Varga won the men's race in 28:33, from Briton Richard Stannard, and Serb Ognjen Stojanovic.
"It was a good wee hit-out and I really wanted to get that title. It's something to add to the resume and it's good to do it in your own country," Samuels said of her first attempt at the aquathlon discipline.
She wanted to test out the swim leg ahead of Saturday's big showdown and as she likes to do a solid hitout a couple of days before major competitions, it dovetailed nicely.
The world No 18 Samuels, based in Wanaka, will be one of four New Zealanders among the women's field of 49 on Saturday for the Barfoot & Thompson-sponsored event. Andrea Hewitt is ranked fourth and clearly New Zealand's best chance, while Kate McIlroy is sitting in 10th spot and the retiring Debbie Tanner in 68th.
Samuels has had a difficult year.
She had to peak in April to get a spot at the London Olympics, then again after having her appendix out to confirm New Zealand's third athlete in the field for the Games.
"For me it's about getting to the finish line, having a break and starting next year. But I want a really good race, it's home turf and it's important for us."
Samuels, 29, is eyeing a top 10 placing and she's already got the Rio Olympics in 2016 in the back of her mind. "Because I had such a disappointing Olympics [she finished 35th] it'd be nice to go and have a race you deserve."
She is relishing the chance of tackling the hilly bike leg.
That's New Zealand athletes' preferred terrain and as she put it: "I hate it when athletes can just hide. There'll be no hiding this weekend."
The cycle leg takes in demanding climbs up Shortland, Wakefield and Victoria Sts.
"If an athlete hasn't trained for cycling for this race they'll definitely struggle, and it'll be a slower run that what you see in most races just because of the hard yards the bike will take out of the legs."
Top results
(1km swim, 5km run)
Elite men: R. Varga (Slovakia) 28m 33s 1, R. Stannard (Britain) 29:34 2, O. Stojanovic (Serbia) 30:12 3.
Elite women: N. Samuels (NZ) 33:02 1, E. Davis (Ireland) 34:23 2, T. Milos (Croatia) 34:54 3.