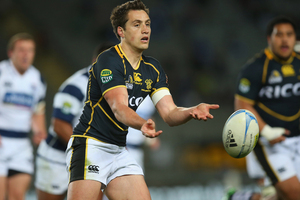 You'd think Tim Bateman would be tired.
The Wellington five-eighth has missed only 20 minutes of his side's 10-game ITM Cup campaign this year, which followed 15 appearances for the Hurricanes in Super Rugby after a season in the Japanese Top League with the Coca-Cola West Red Sparks.
It's a heavy workload, but the 25-year-old, who moved his young family to Wellington at the start of the year in search of a call-up to the All Blacks, said he felt full of energy as he looked forward to this weekend's Premiership semifinal against Auckland at Westpac Stadium.
"I feel pretty good. This is the business end so all the stuff you do prior to this is pointless," he said.
"If you're not up for a semifinal then you're not in the right game, so I'm feeling good."
Bateman has been one of the surprise packages in this year's competition. Not because of his consistent play - that was expected - but more because he has played eight of Wellington's 10 games at first-five.
By his own admission he is a midfielder masquerading as a pivot but even Lima Sopoaga's return from a lengthy spell on the shelf hasn't knocked Bateman off his stride, and the former Crusader has kept Sopoaga on the bench for the past two weeks.
"I knew there was going to be quite a bit of time there, depending on how well I went I'd end up staying there, so I was more than happy. I played a whole season at 12 [for the Hurricanes] and I still see myself as a 12. I've played my whole career really as a midfield back at 12. It's where I'm most comfortable. But, playing 10 for this side has been a new lease on life for me, I've really enjoyed it."
He's had to work on his ability to punt the ball long, but given the dangerous backline the Lions possess they tend to run the ball from most corners if the chance arises.
Given the Hurricanes haven't signed a specialist first-five to back up Beauden Barrett next season, the obvious question is whether coaches Mark Hammett and Alama Ieremia think Bateman can take his game at pivot to the next level.
"I haven't spoken at all to Hammer and Al about what could go on there," Bateman said. "I think it'll be good for me with them seeing I can play there a bit. I don't know if I can play it well enough there, they'll have to decide that. But I'm more than happy to step in there if needed."
Bateman's final Super Rugby appearance of the season was his 50th, following 35 caps for the Crusaders from 2007-2010 before he left for Japan and he is also closing in on 50 provincial outings.
When Hammett announced Bateman's recruitment on a two-year deal it seemed a savvy play and the man himself said he always knew it was the right move.
"This is where I want to play, I've got huge aspirations and I still want to be an All Black. I've only just turned 25."
If he can direct Wellington to another victory on Saturday night, that much-needed rest will have to be delayed for another week.

Play Jimungo Virtual End of Year Rugby Tours
Compete for prize money and bragging rights in Jimungo Virtual Rugby Tours - the game for all of the end of year international rugby matches. Simply choose the winning team and margin. Starts Saturday 20 October.Sign up now.
- APNZ