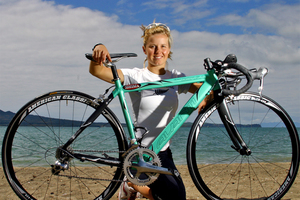 After more than 10 years and New Zealand representation at world championships, Commonwealth and Olympic Games, Auckland triathlete Debbie Tanner has decided this weekend's ITU world triathlon grand final will bring the curtain down on her career.
The 30-year-old will say farewell in the season's grand final in Auckland on Saturday.
"After not qualifying for the Olympic Games this year I took some time to look at my future in the sport, dabbled in some non-drafting events and realised my love was for ITU racing," Tanner said.
"But, you cannot compete in this sport half hearted and only give 90 per cent. The goal is always to medal at the Olympic Games and when I realised I could not do this I knew it was time for me to move on."
Highlights for Tanner include a fourth place finish at the 2006 Commonwealth Games and a World Cup victory in Ishigaki, also in 2006.
Add to that five World Cup podiums and 14 top 10 finishes and you have a career to be proud of, one Tanner acknowledges would not have been possible without some wonderful support.
"I cannot thank enough my coach Pete Pfitzinger who has been on this journey with me for 12 years, he coached me to my first World Cup win, numerous World Cup podiums and Commonwealth and Olympic Games, I have probably been the cause of a few too many grey hairs and a few sleepless nights but know the success I have had has been largely due to the huge amount of time and dedication that Pete has put into my programme. He has taught me so much not just about sport but about life."
Pfitzinger was quick to acknowledge Tanner in return, praising character traits that have served her well for a long time.
"Debbie has been in the Triathlon NZ high performance programme for over 15 years and I have had the honour of coaching her for 12 years. She started out as the 'little sister' of Hamish Carter and grew into a world class triathlete in her own right, reaching No 6 in the world, winning a World Cup race and finishing 10th in the Beijing Olympics. Debbie's greatest strengths have been her positive attitude, work ethic and resilience."
Tanner is left to contemplate a diary that might feature less training and more relaxation.
"It has been the most amazing journey that I could have ever asked for. I will forever have a passion for the sport of triathlon and it has given me so much. Memories I will never forget and forever lasting friends from around the world. I am really excited about the future and what it holds and starting a different pathway on another journey.
"I have been involved in this sport long enough to see so many changes and am excited to see the direction and growth it is going in."
- APNZ