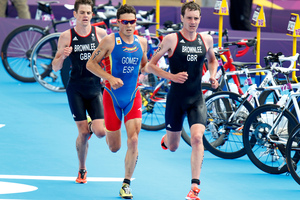 Auckland's rugged course for the world's elite triathletes this weekend has received strong endorsement from the sport's governing body.
The layout for the middle cycle leg of eight laps around a 5km circuit includes a tough climb up Shortland St, off the bottom of Queen St and other awkward beats up Wakefield and Victoria Sts in the central city.
It follows a 1500m swim off Queen's Wharf, and is followed by a 10km run primarily involving Quay and Queen Sts. But it's the cycle leg which will be the make-or-break aspect to the world triathlon series grand final for the women on Saturday and the men a day later.
Any athletes fancying having a moan at the difficulty of the setup won't get any change out of the International Triathlon Union.
"I would say this course is without doubt one of the best on our circuit," International Triathlon Union sport director Gergely Markus said yesterday.
This weekend is the culmination of a series of eight races, the previous legs being in Sydney, San Diego, Madrid, Kitzbuhel, Hamburg, Stockholm and Yokohama.
Designing the layout is initially down to the host organising committee, who submit their proposal to the ITU. They then approve, fine tune or reject.
The ITU has terms it likes built into its circuits - proximity to the centre of the city being a key one.
That is why there was so much unhappiness among athletes at the ease of the course used for the London Olympics this year.
Markus said there were difficulties with that. If you wanted Buckingham Palace and Hyde Park to feature for a worldwide audience, hills were a non-starter.
"In London there had to be some compromises made," he said. "We wanted to stay in the centre, we wanted that backdrop. There were hundreds of thousands of people coming to watch. But being in the centre of London there weren't any hills. It probably wasn't the most technical course."
The result was a relatively undemanding event, in physical terms, but one tailor-made for runners. The result was British brothers Alastair and Jonathan Brownlee delivered gold and bronze medals as part of Britain's hugely successful Olympic campaign.
They were separated by classy Spaniard Javier Gomez. Jonathan Brownlee, who leads the men's series, and Gomez will both be in Auckland. They will find a vastly different proposition from London.
"It is a very challenging course, using all the possibilities in the centre of the city to make it hilly and technical. There are lots of corners and a few climbs which is making sure on the bike section the athletes really need to put in a big effort to go around this course," Markus said.
The aim of the layout for the Barfoot & Thompson-sponsored finals? "The winner will be the best athlete who can swim, bike and run, not the best runner, or swimmer."