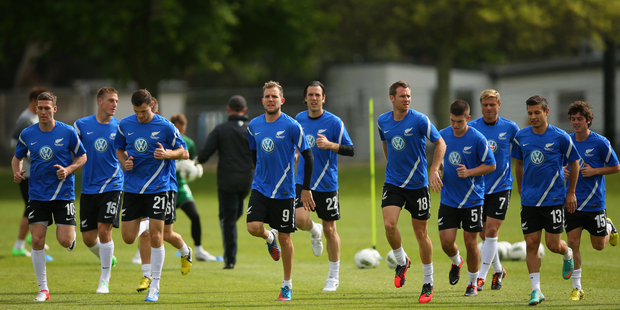 Three points in the bag, a three-hour sleep, another testing flight and time to move on in a hectic schedule which has taken the All Whites one step closer to their World Cup dream.
Goals in each half from Shane Smeltz and Ben Sigmund handed the All Whites a 2-0 win over Oceania Nations Cup winners Tahiti on Saturday night.
The third loss in as many matches in the Oceania World Cup qualifiers for the Tahitians ended any World Cup hopes for the team who will represent the region at next year's Confederations Cup in Brazil.
By early yesterday afternoon the All Whites were back in Auckland and a couple of hours later in Christchurch for tomorrow night's return with the Toa Aito.
Coach Ricki Herbert said the players would be having a "couple of quiet days" to get ready for the round four encounter.
"Getting the points was important. We played well but with such a quick turnaround it hasn't been easy," said Herbert who was coy when asked about the standard of refereeing.
"Let's just say we did extremely well in difficult circumstances."
Reports from Papeete suggested Vanuatu referee Bruce George struggled and that the All Whites were fortunate to get out of the match unscathed.
The only dropout from tomorrow's game will be Blackburn Rovers midfielder Tim Payne who received a second yellow card and faces a one-match stand-down.
Herbert is well aware that he has seven other players on one yellow card and does not want any more bookings as the next match after tomorrow night, in March next year, is at home to New Caledonia - a potential group decider.
Herbert took plenty of positives from the win over Tahiti.
"Ivan Vicelich was outstanding and I thought Tony Lochhead played very well and Leo Bertos, playing at right back, defended well when he had to," said Herbert.
"Chris Killen was excellent up front and overall it was a very pleasing performance."
Glen Moss, handed a late call-up when goalkeeper Mark Paston was sidelined with an infected foot, was largely unemployed but with Paston, according to Herbert, a lot better, Moss might find himself back on the bench.
Any other changes will wait until after Herbert and the medical staff have had the opportunity to assess captain Ryan Nelsen and fellow defender Winston Reid who arrived in Auckland over the weekend and flew to Christchurch with the party yesterday.
A solid 90 minutes from Sigmund, culminating in his second goal for New Zealand, has given Herbert more food for thought ahead of the return.
A win at AMI Stadium would, depending on tomorrow's other result, keep them at least three points clear and in a good position to dictate the eventual outcome without having to count on other results going their way.
In Honiara, New Caledonia overcame the away disadvantage to thump the Solomon Islands 6-2 to emerge as the only serious contender to the All Whites.
New Caledonia were 2-1 ahead at the break. They play the return in New Caledonia tomorrow night.
Game two
All Whites v Tahiti
Christchurch, 7.30pm tomorrow