Blooding a new wave of world beaters must be the new target, writes Andrew Alderson.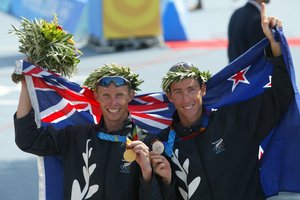 As transitions go, Triathlon New Zealand faces a tricky one; how to rejuvenate international success in the sport.
The World Championship Series finale in Auckland next weekend will likely be the last time New Zealanders see double Olympic medallist Bevan Docherty and veteran Kris Gemmell running the Games distance of 1.5km swim, 40km bike and 10km run. Both are 35 and keen to transfer to Ironman distances.
Top New Zealand woman Andrea Hewitt remains a doubtful starter for the 2016 Rio Games, given she will be 34. None of New Zealand's top four women are under 29. Among the six-person London Olympic team, only 24-year-old Ryan Sissons has confirmed he wants to continue to Rio. There is a void as to who else might return New Zealand to the medal podium.
The London results were sound but underwhelming when compared to the New Zealand team's overall 13-medal haul. Hewitt's sixth was the most disappointing, given she was ranked top of this season's International Triathlon Union points list and second in the world going in.
Kate McIlroy finished 10th.
In the men's race, Docherty was 12th and Gemmell 15th. The results did not justify the $6.9 million (or 8 per cent) of the Government's high performance sport budget invested over the Olympic cycle. A fresh application will be presented to the Rio Olympic financiers next month. Future funding - and a call on whether triathlon remains one of the country's six targeted sports - will be decided by December.
A change in triathlon's direction over recent years has not helped New Zealand. Quicker runs on flatter courses, a growth in professional participation numbers (especially in Europe) since the sport's Sydney Olympic debut and the success of younger athletes means it is tougher to excel.
The failure of any New Zealand male to qualify for an Olympic spot under TNZ's criteria until April was an indication. Prior to the men's Olympic race, TNZ chief executive Craig Waugh told the Herald on Sunday the sport's progress had diluted some of their advances.
"Our guys are as fast as they've ever been on the run but you need to be able to run 10km in less than 30 minutes these days on most courses. Athletic freaks like Britain's Brownlee brothers, Alistair and Jonathan [gold and bronze medallists at London], have taken up the standard. This is triathlon's fourth Olympics, so it's one of the youngest sports. There's also a cast of thousands flooding into the professional ranks from countries like Russia."
A proactive approach has marked Waugh's CEO tenure from July last year. He foresaw the 2004-2008 glory days might not be replicated in London so instigated plans looking to Rio and beyond.
"We have to fess up the current situation is not ideal, but we are going to make it ideal," he says.
In June, TNZ released an independent review revamping the structure of the sport for the next eight years. A more centralised model will see a triathlon hub developed. An independent panel is due to make a decision shortly where that will be; Rotorua, Nelson and Wanaka are candidates.
It will be based on facilities available for the three sporting disciplines, travel accessibility and accommodation costs. Rotorua is favourite with its accessibility to other high performance facilities such as rowing and cycling.
The review also involved re-jigging TNZ's employment structure. New high performance director Graeme Maw starts full-time in December after emigrating from England. A national coach will report to him. Current national coach Greg Fraine has assumed all those responsibilities until now.
The expectation is Maw will be in the job until 2020. He held similar roles with Welsh rugby, Queensland Swimming (where he worked with High Performance Sport New Zealand CEO Alex Baumann) and British Triathlon (his talent identification programme unearthed the Brownlee brothers). Maw has a PhD in environmental physiology but talked in layman's language from his Somerset cottage about what needs to happen.
"I first met Bevan Docherty about 10 or 11 years ago at a hotel ahead of a race in Europe. I was impressed by his will to succeed. He was learning his trade travelling the world by himself on a budget but his determination shone through. It was the same with the Brownlee brothers. When Brits thought about heading to the Mediterranean sun in winter, those two could think of nothing better than getting out to ride in the hills of Yorkshire.
"Talent identification is important and resources need to be made available to do that but it is really just adding the marginal one per cent.
"For me, the vast majority of athlete development is done in training. There is no point putting athletes in environments where they fly around excessively, decamping overseas for months on end. They need to race in targeted international competitions - like the New Zealand rowers do.
"The indomitable will has to be there already; like with Docherty and in New Zealand's rugby, rowing and sailing history. That is where New Zealanders have a massive head start; an outdoor lifestyle which is hard to compare to anywhere in the world."
Maw should know; he is a lifelong rugby fan who describes himself as a "laborious fullback" and was even travelling well in the one-day Coast-to-Coast in the early 1990s but put his kayak into a rock wall on the Waimakariri.
Kris Gemmell is another with forthright views on how TNZ can return to the medal podium. His experience on the international circuit might be worth hearing or even employing.
After finishing 15th at London, Gemmell said TNZ needed to throw as many eggs as possible against a wall and keep the ones that don't break.
"That not being disrespectful to our high performance programme but I'd like to be a big part of that. I've got ideas on how to find these types of guys and girls. I've been involved in it since 1996 when [Gemmell's former coach] John Hellemans first took it on."
Gemmell acknowledged the Brownlee brothers were something special that was hard to match.
"I'm quite a sports historian; we have icons in all sports and these guys are ours. That's not to take anything away from Bevan [Docherty], Hamish [Carter] or [Sydney Olympic gold medallist] Simon [Whitfield] but these guys have changed our sport. It's scary to think others could possibly be faster. That's what the young guys and girls back home have to aspire to.
"We almost have to stop our programme and start it in a different direction," Gemmell says. "We've got no choice. That's what some of these other countries have done. Look at the best high performance structures and development programmes in New Zealand like rowing or cycling. We're successful too, but there is a big difference between top 10 and winning a medal.
"We need to set up a system which grabs kids at a younger age. We then need to sit down with them and their families and plan their futures. That could mean school or community involvement, we've got to start somewhere. We've got to funnel our investment and ensure there's more direction.
"It might mean chucking 100 eggs at a wall and if four don't break - maybe that's the four we need. At the moment, we're only chucking a dozen eggs, we need to chuck more."
- Herald on Sunday