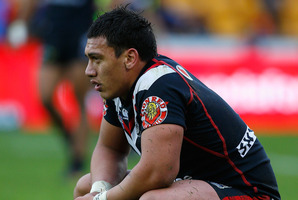 Elijah Taylor didn't say there would be a "player revolt" at the Warriors. But what he did say reveals how bad things were under the former coaching and administration regime. Michael Burgess reports
It might be awkward when they meet for the first time tomorrow but if Matthew Elliott is smart, Elijah Taylor will become one of his most trusted lieutenants.
Taylor's honest assessment of what went wrong under former coach Brian McClennan was the first real, open look through those dressing room doors, even if what Taylor said when backing Tony Iro to stay on as Warriors coach was somehow twisted into a "player revolt" against Elliott at Mt Smart by some journalists.
"Some players' attitudes weren't up to standard," said Taylor. "I can't name names but they were a lot of players just coasting and not on their toes. There were players not working hard on defence and it showed in the way we played. It was just an attitude thing from some."
There were other factors at play - the coaches have admitted they tried to change too much, McClennan introduced too many young players too soon and CEO Wayne Scurrah has conceded that McClennan was significantly under-resourced - but Taylor's revelations are the most telling.
Elliott's principal task next year will be to build a winning environment at Mt Smart and change the culture that seemed to slip so dramatically this year. Rather than being looked upon with suspicion, players like Taylor can set the example.
Those who observed the team at close quarters this year were often surprised some players were able to shrug off defeats.
Taylor bleeds for the cause. Recently honoured as clubman of the year, he puts his heart and soul into everything and was visibly shattered by the defeats this season.
The Herald on Sunday understands that the internal rot really began to set in after the Brisbane game in mid-July, when the Warriors narrowly lost to the Broncos despite dominating the match.
"It was a really tough loss but a lot of the players didn't seem to care," said a source close to the team. "They were more worried about getting their jeans on and going out on the town - it didn't seem to affect them."
That attitude continued the next week after the team blew an 18-0 lead against Newcastle at home; some players were indifferent, knowing that they wouldn't be dropped. The final nails came in the loss to Manly in Perth, before the embarrassing 45-4 defeat to Cronulla the following week.
One senior player couldn't believe what he was seeing, saying in the same situation at most other clubs in the NRL "all of the team would be walking on eggshells and half the players would have be gone from the side."
The Herald on Sunday understands that in the team video sessions this season players were rarely, if ever, shown the negative moments from the previous week's match. Instead of being held to account for their missed tackles and tries that were being conceded, the focus was on the positive plays and what they had done well. Players would often emerge from sessions relieved, after thinking they were going to be called to account.
This was in contrast to life under Ivan Cleary, who generally only highlighted errors and mistakes and concentrated on what needed to change and improve.