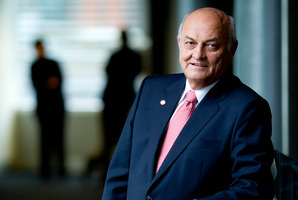 Several moments at the media conference unveiling new Warriors coach Matthew Elliott on Friday made you want to crawl under the white avant-garde seats at the Sky Lounge and cringe. Most of them involved co-owner Owen Glenn.
The event had touches of a school assembly. Glenn was the headmaster on the makeshift stage with chief executive Wayne Scurrah the head boy and Elliott the new boy, all eager to please and paint a harmonious picture of a club which has come off one of its worst finishes (14th) in its 18-year history.
Elliott had little to fear, but Scurrah's beaming smile must have been tested at times in the presence of the man some refer to as 'Owen Abramovich', the Kiwi version of Chelsea football oligarch Roman Abramovich, a man not afraid to sack coaches or CEOs.
Glenn's co-owner Eric Watson is understood to be keen to get on the phone to Scurrah from Europe when the Warriors lose; but it's not as confrontational as the new owner getting in your face to demand NRL supremacy on a more regular basis at home.
Glenn proceeded to inject a series of one-liners, intended as comedy but which came across as awkward; lines which clashed with the tone of the conference. This was not a forum for stand-up comedy. Fans want thorough answers as to how Elliott will make things different. They need to decide whether to open their wallets for season tickets. Instead Glenn gave them Jerry Seinfeld .
One of his lines may or may not have been a joke. When asked about his knowledge of Elliott, a 360-game first grade coach over 16 seasons in Britain and Australia, Glenn replied: "Two months ago I'd never heard of him ... Wayne and the boys led the charge and we had two or three (coaches) who could have made the grade."
Regardless of its intended wit, the 'gag' didn't make the director's cut on Vodafone Warriors TV.
There was also a prod at the media which hinted at Glenn's 'tolerance' for a robust fourth estate.
When asked for an assessment of Elliott, Glenn replied: "He's a good bloke, give him a fair go, okay? We want positive thinking in New Zealand, not negative thinking. That's one of things this country suffers from. You're the blokes with the pen and paper, I don't want to have to buy APN (the Herald on Sunday parent company), but I might ..."
There was also clumsiness at the start when the affable Scurrah delivered an introduction on an occasion which promised cut-and-thrust. Corporate buzz words like "process", "input" and "high-calibre" featured prominently.
After being introduced, Glenn seized his microphone and said: "That was supposed to be a short introduction, you've basically said what I intended to say." Yikes, best of luck, Wayne.
Glenn claimed he hadn't "bought a drink in a bar for quite a while" since being Warriors co-owner. It raises the question why isn't he buying them for suffering Warriors fans whom he praised for their "tremendous passion and loyalty"?
There is no doubt Glenn is a benevolent man, a benefactor to sport and an astute businessman. The work he has initiated in Otara, donating an initial $8 million to sort out poverty, family violence and child abuse appears inspirational. He's also been a godsend with his investments in the Auckland University business school and his willingness to donate $1 million over time to hockey.
But fans want to see the result of that business acumen being applied rather than stand-up comedy at the Warriors. They will surely reap the benefits.