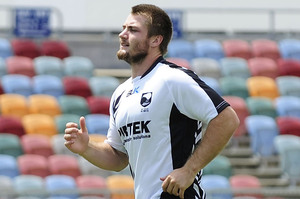 Several Kiwis had points to prove in Townsville last night but Kieran Foran had more than most.
The Manly half is one of the bona fide stars of the NRL but coming into last night's match had yet to make his mark at international level.
In a surprisingly frank statement, the 22-year-old admitted he has been often disappointed with his output in the black and white jersey.
"I would say so far I haven't dominated yet at test level the way I would have liked to," Foran told the Herald on Sunday. "I know I am still young but I put that pressure on myself that every time I wear the jersey to come out and play at my best and I am yet to do that, I think."
"I have just been a bit stand-offish. I don't think I have been able to do what I do at club level in the test jersey yet. I am hoping to change that [in the future]. I'm putting a big emphasis on it and I think it's time that I do."
Foran is held in high regard by the Kiwis hierarchy, shown by the fact that he has been part of the senior leadership group (alongside Benji Marshall, Adam Blair, Jeremy Smith, Simon Mannering and Jason Nightingale) since the tender age of 21. While he enjoys a joke, he is also one of the more focused members of the New Zealand group.
Over the past few decades the Kiwis have rarely had an established halves combination capable of matching their Australian counterparts. Stacey Jones had more partners than Tiger Woods while over his long career Gary Freeman rarely had the same five-eighth inside him for long periods.
You probably have to go back to the mid-to late-1980s, with Clayton Friend and Olsen Filipaina, to find the last time the Kiwis consistently dominated the Australians in those vital positions.
When Foran flashed on the scene, the wait was supposed to be over. After making his debut in the unfamiliar position of centre in late 2009, Foran was picked at halfback for the 2010 Anzac test. The Kiwis had two classy options for the six and seven jersey and the resolute Foran was seen as the perfect foil for the flashier Marshall.
But that hasn't quite eventuated and, as a combination, the duo have yet to hit the heights together that their NRL pedigree might warrant .
"It's bloody hard [for Benji and I", says Foran. "These Aussie combinations play together all through the year (and) they play together at Origin. They don't have to change anything when they come together. Me and Benji get four sessions - if that - to come in and try to build a combination.
"It's incredibly hard but I am starting to feel that we are getting there. We have played alongside each other a few times now and things have started to gel nicely."
Foran is keenly aware of expectations of the pair: "Benji (and I) are both dominant players in our club sides," says Foran. "It's about bringing that together in the Kiwi jersey and doing it out there."
Meanwhile, Shaun Johnson, who didn't take the field last night, is the wildcard in the pack. If he re-captures his 2011 form next season, the young Warriors half will be pushing hard for a place in the 17.
However, such competition is a welcome headache for Stephen Kearney and can only be good for New Zealand's World Cup prospects.