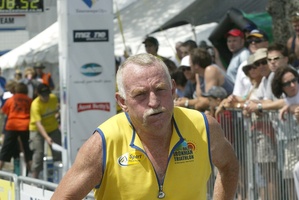 There is no place Jim Goodwin would rather be tomorrow morning.
The 64-year-old engineer has done every Waitakere Half Marathon since it began 15 years ago and is pretty proud of that record.
"I have done every Waitakere Half to date and I just love being part of this run," said Goodwin.
It's all a long way from where his sporting endeavours began.
Goodwin remembered that he swam for the Parnell Swim Club as a child and later on, his senior rugby career ended abruptly with a serious knee injury.
He took up triathlons in 1985, competing in standard and sprint events and also did three half Ironman events from 1987-89 on the North Shore.
He has also taken part in the Cycle Vets with Waitakere Point Chev Cycle Club and swum Masters with Kelston Aquatics.
But the Waitakere Half Marathon is one he has a special bond with.
"The Waitakere Half has always had an association with Waitakere Triathlon and Multi Sport Club. Mixing with these athletes inspired me to compete in 21 Ironman events so far and in 2006 I was lucky enough to go to the ITU World Long-Distance Tri Champs in Canberra."
He finds the track a good challenge and has lowered his expectations in 2012 after a recent injury.
"The half course is brilliant as its part-road, part-track. This year I'm just hoping to finish as I twisted my knee three weeks ago and I am still having physio."
Even at 64, and nursing an injury, Goodwin is not slowing down. The weekend he has planned for a couple of weeks' time would test some of New Zealand's elite athletes.
"I'll be swimming 2-3 km at Mission Bay on Friday, cycling K2 the Saturday and running the Auckland Marathon on Sunday - that is going to be my big weekend."
It's remarkable to see a veteran with that sort of fitness and goal in mind.
But first things first and that is supporting an event he always has. The Waitakere Half is a big day for the locals out west.
"This run is always a special event for this community as the funds raised go back to the community and that is great."