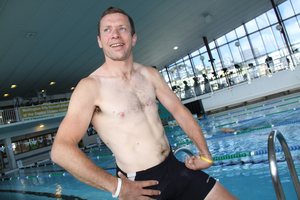 Wellington's Nick Ruane is something of a trailblazer in triathlon, more specifically in paratriathlons.
A silver medallist at the long-distance world championships last year, Ruane is now looking to go one better at the upcoming ITU World Paratri Championships in Auckland, raced as part of the Barfoot & Thompson ITU World Triathlon Grand Final at Labour Weekend.
The Wellington athlete has been in the sport for a relatively short time but has made great strides.
"My first triathlon was in 2009, a local Wellington Scorching Tri event and I almost drowned as I couldn't swim," he said. "I then went on to successfully complete NZ Ironman in 2011 and bring home a silver medal at LD Worlds in 2011 - now Para Triathlon Worlds 2012.
"Auckland is the first step in the pathway towards Rio 2016 Paralympics selection. I'm very excited to race the same course, with a couple of variations that I raced in November 2011.
"Long term I am looking at understanding the pathway towards Rio 2016; my goal is selection in 2016. Medium term I am looking to put together the best performances I can at world championships each year on that pathway. To improve each of my disciplines each year is the goal."
Worlds Paratri event director Mel Johnston said inclusion in the 2016 Paralympics in Rio was a huge fillip for Paratri. "It's very significant milestone for the sport and a goal that athletes all over the world are aiming for," said Johnston.
"Their preparation begins this week in Auckland. We are expecting 109 athletes, which is the biggest number ever for a world champs and it will be great to see the sport enjoy some time in the spotlight.
"This event is going to be great for a number of reasons.
"First, it gives all our athletes the opportunity to compare themselves against many of their rivals from around the world and gauge where they are at in regards to Rio. There is also huge aspirational value in this event in Auckland where these athletes will enjoy a heightened profile and inspire the next generation.
"They will see young Kiwis competing and that in fact recognises that success on the world stage is very much attainable."
Ruane is expected to be among the front runners. He appreciates that he is something of a trailblazer for others in a similar situation and takes on that responsibility happily.
"By completing in triathlon I send a message to other people with disability that anything is possible both in sport and in life. My message to people with disability is that if you want something enough, your passion for your goal will attract others to support you to achieve whatever goal you seek, as great things are seldom achieved outside of teams."
Ruane said nothing would be possible without the help of a great team around him.
"Nothing is possible without the support of family and the advice of coaches. I bring a house-load of family and supporters who will be located in Devonport for the entirety of World Champs week and my coach Lynley Brown will be in Auckland for the event."