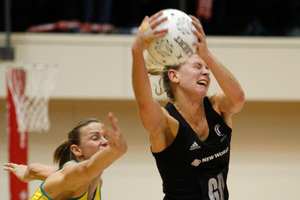 Lengthy lay-offs likely in bid to extend the career of Silver Ferns captain
After last month's false start, Casey Williams is ready to make her international netball return in tomorrow's Quad Series opener against South Africa, but the Silver Ferns captain is resigned to spending time on the bench over the next three weeks.
The series, which also includes world champions Australia and England, will take in six stops across Australia and New Zealand, with the teams remaining in Auckland at the conclusion for the Fast5 tournament.
The busy end to the season and tight scheduling means the star defender's workload will need to be carefully managed during the series.
Williams said she has come to accept that if she wants to prolong her career and avoid any further lengthy lay-offs she will have to be rested for some of the matches.
"It's likely that I'll have a bit of time out because otherwise I've gone from one extreme to the other, and that's not ideal," she said.
Williams, who has not played for the Ferns since last year's world championships, had her return to international netball put on ice after one of her troublesome knees flared up in the lead-in to last month's Constellation Cup series.
But this time she claims she is ready to go.
"I've come through all the sessions and this morning I was running with no pain at all - I feel like a 17-year-old again, it's great," said Williams.
While she insists her side are not taking South Africa lightly, Williams said tomorrow's match-up is a good opportunity for her to ease herself back in to action before the Ferns take on the more competitive English and Australian sides later in the week.
"Personally for me, it's a good first game to come up against to try and get myself up to speed," she said.
"In training this morning I was getting frustrated because I could see the ball, I could see what I wanted to do, but just getting the timing and co-ordination back takes time."
With the return of Williams, the Silver Ferns have made a couple of changes to their line-up from last month's historic Constellation Cup win, coach Waimarama Taumaunu keeping her promise to rotate her squad throughout the international season.
Canterbury's Anna Thompson will get her opportunity to push for a fulltime spot, replacing Jodi Brown in the shooting end, while in the midcourt uncapped youngster Shannon Francois joins the team as a late replacement for the injured Grace Rasmussen.
Rasmussen, who has a stress fracture in her ankle, was originally called in to the line-up in place of Camilla Lees, who ruled herself out of the tour because of study commitments.
Without Lees or Rasmussen, the pressure goes on Ferns newcomer Bailey Mes to step up and take on a starting role.
Mes was a shock selection in the New Zealand line-up, having played just one quarter of ANZ Championship netball this year. After such an unexpected rise, Mes' debut has been keenly anticipated. Her opportunity is expected to come tomorrow against South Africa, and if she struggles, there is little in the way of a safety net for her.
Taumaunu said that while she would have preferred to have a more experienced back-up at wing attack, she is still confident with the mix she has.
"The idea of both Camilla and Grace was that at any point we had one of those two in there with test experience to support, so we did not anticipate we'd have two uncapped players in there. But having said that, Anna Thompson has played a lot at wing attack this year and we have the option of moving her across to the wing," said Taumaunu.
The Ferns were disappointed with a sluggish start the last time they met South Africa in the quarterfinals of the world championships last year, where they trailed Elize Kotze's side at the first break.
Taumaunu said her side have learned their lesson from that and will need to adjust better to the difference in style tomorrow.

Quad series
Tomorrow - Adelaide
4pm: Australia v England
6.30pm: Silver Ferns v South Africa
Wednesday Oct 17 - Newcastle
8.30pm: Silver Ferns v England
10.30pm: Australia v South Africa
October 21 - Sydney
4pm: Silver Ferns v Australia
6pm: England v South Africa
October 25 - Wellington
6pm: Silver Ferns v England
8.20pm: Australia v South Africa
October 28 - Tauranga
5.30pm: Silver Ferns v South Africa
7.30pm: Australia v England
November 1 - Hamilton
6pm: Silver Ferns v Australia
8.20pm: England v South Africa