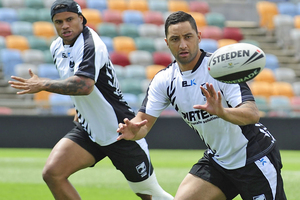 Benji Marshall admits he has been in an international form slump and that needs to change tomorrow night in Townsville.
While Marshall has continued to star for the Tigers in the NRL, the Kiwi's captain has been the subject of much criticism over the last two years for his underwhelming displays in the black jersey.
Since the 2010 Four Nations final (when he was superb) Marshall has rarely fired for the Kiwis and made several crucial errors in this year's Anzac test.
"There is no denying it," said Marshall, "I even say myself the last couple of years internationally I haven't played as well as I would've liked to. Whether that is down to putting the tricks away or not, people [can] write what they want."
There is a theory that he has been shackled by the responsibility of being captain and less able to come up with the maverick plays that we see at NRL level.
Men like Ryan Nelsen and Richie McCaw have seen their games go to another level with the captain's armband on but with Marshall it has been less frequent, though he disputes the correlation.
"It's not really a load," said Marshall. "The way I see it I have been picked as captain because of the way I was with leadership when I wasn't captain.I haven't really changed much from then until now [and] in terms of the way I act around camp or talk on the field there has been no difference."
"I feel that the way I captain the side is the way I know. I lead by example and that is all I need to do. If other people think that I'm not the man for the job that's okay. If the coach taps me on the shoulder and says I'm not the man for the job then I'll listen. But the boys are happy with me and I'm happy and that's the main thing."
Tomorrow night Marshall will lead the Kiwis for the 19th time, taking him ahead of legends like Mark Graham and Ruben Wiki and level with record holder Gary Freeman.
"Just to be captain means the world to me and to represent New Zealand - there is no bigger thing", said Marshall. "You don't play the game to break those records - you play the game because you love it and you represent your country and that's it. When I retire I might look back and think what a great achievement but for now I hope I have still got three or four more years left in me."
Putting aside famous tournament victories in 2005, 2008 and 2010, the Kiwis haven't beaten their great rivals in a one off test match since the 30-16 win in Auckland in 2003. Like all of his team-mates, Marshall knows that statistic needs to change.
"There's no doubt that in tournaments we get better as the weeks go on, said Marshall. [But] it's important for us to win one of these one off tests just for our confidence."
Aside from the undoubted pressure, the 27-year-old has enjoyed the week, away from the ongoing soap opera at the Tigers.
"It's been a great relief to get away from all the drama that has been happening in Sydney, come into Kiwis camp and enjoy the boy's company," said Marshall. "It's been a really tough season. Everyone knows we had high expectations [at the Tigers] and they didn't really pan out. Tomorrow is a good chance to get something back and I'm keen for a big one."
- HERALD ON SUNDAY