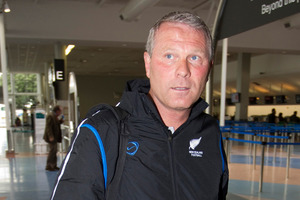 Home and away wins over Tahiti in third and fourth round games will almost certainly guarantee the All Whites their passage into next year's Intercontinental play-offs for a place in the 2014 World Cup in Brazil.
In Papeete for tomorrow's game at Stade Pater, All Whites coach Ricki Herbert is aware of the importance of this game and the return leg in Christchurch on Tuesday night.
No one would dare suggest that claiming maximum points will be easy.
Tahiti, the Oceania Nations Cup winners, are hurting from opening round losses - 2-0 to the Solomon Islands (away) and 4-0 to New Caledonia (home) - and need a dramatic reversal in form if they are to have even a faint hope of getting back in contention but Herbert and his players have their sights on a six-point return from matches and, hopefully, an easy passage to the play-offs.
Since their opening shock losses, the Tahitians have played in the Overseas Territories Cup in Paris where they finished sixth and posted a 1-0 win over New Caledonia.
While coach Eddy Etaeta was satisfied with the results at that tournament, that is countered to a degree by the short turnaround and the travel involved which may have an effect on his players who again have a trip to New Zealand and a short turnaround - just 72 hours between the two matches - to contend with.
"Before the first two qualifying matches we lacked rhythm and games of a high level," said Etaeta. "We hadn't played enough. These two games against New Zealand are important for us and if we can record some positive results the qualifications will be thrown wide open."
Aware that Ryan Nelsen and Winston Reid are out of the picture for the game in Papeete, Etaeta said his team are ready to square off with the All Whites no matter who Herbert settles on.
Etaeta too has injury concerns and is waiting for medical reports before naming his team for tomorrow's must-win game.
"They won't be the same team we saw at the Nations Cup," said Etaeta. "We expect New Zealand to press high and impose an athletic and physical presence. It's over to us to prepare for that."
While Herbert does not talk too much about the Honiara horror show and the loss to New Caledonia which scuppered any hopes of playing in next year's Confederations Cup, he is well aware of the importance of these games but even losing Nelsen and Reid does not overly concern him.
Herbert is still hopeful of having his two Premier League defenders available for Christchurch and will make the adjustments at that time.
"In Tahiti it will be a chance for some other players to step up which will be good and I think we'll be fine," said Herbert. "I'm comfortable with the depth of the squad and we have a couple of different pairings that can play at the back.
"Leo Bertos is an option at right back which gives us the ability to play a back four but we'll see."
A return to a back four would be something different given the formation Herbert has used in the past couple of years but with what the players have shown for their clubs and on the training pitch a change would be an interesting return to what was for so long the normal.
If he settles on Mark Paston in goal and a back four of Leo Bertos, Ben Sigmund, Tommy Smith and Tony Lochhead, he could go with Ivan Vicelich, Michael McGlinchey and Jeremy Brockie in midfield and have Shane Smeltz, Chris Killen, Chris Wood, Kosta Barbarouses and Marco Rojas battling for three spots up front. That conjures real thoughts of an excitement machine.
That would leave Glen Moss, Dan Keat, Tim Payne and two others as substitutes which only underlines the strength of this squad.
The All Whites will have a short turnaround after tomorrow's match as they will be in Christchurch less than 20 hours after the final whistle.