Former All Blacks captain Brian Lochore says McCaw's men have much in common with past formidable sides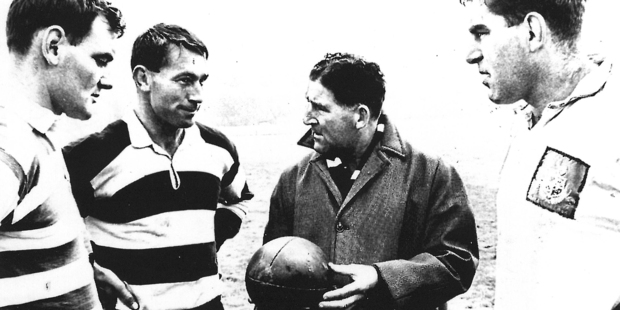 As an observation it was intriguing and the comparison uncanny. However it needed someone like Brian Lochore, who was at the epicentre of the All Blacks' feats in the late 1960s, to deliver some perspective.
"Great teams," said Lochore, "have forwards with the ability to handle the ball and be multi-dimensional.
"We were able to present a 15-man danger to our opponents because of that."
The parallel with Richie McCaw's current group is very apparent to Lochore. Individual skills and team ethos bring a dangerous collective clout to the group of 2012 just as it did when his men circled and conquered the globe in the 60s. Both groups had an unqualified belief in their ability.
"Moulding teams is about having trust in each situation and knowing what your teammate is going to do," said Lochore. "These guys now have a lot of that trust.
"Great teams are defined by their defence, that is where you can tell when the heat is on, how they react and handle that.
Just look at the current team."
Lochore was captain for all but three tests of the '65 to '69 All Blacks' test record run of 17 wins they share as tier-one nations with the Springboks.
Recollections of his teams' style sit squarely with the template the present squad is laying down after their World Cup triumph. They have beaten 16 sides on the trot with their next assignment against the Wallabies in Brisbane on October 20.
It's coming up 50 years since the All Blacks started their sequence under Wilson Whineray's stewardship when they defeated the Springboks at Eden Park in September 1965 and won 17 straight until the Boks got one over them again, at Loftus Versfeld Stadium in Pretoria in late July 1970.
Lochore carved out a career mostly at No8 for the All Blacks and followed his 25 tests and 43 games into coaching and administration.
"In that period we had total belief in the way we played," he recalled.
"It was a successful model for us and we always believed our great collective strengths would get us past most countries.
"I think the forwards' ability to run with the ball was the greatest factor in our play. We had a multitude who could do that."
Tight forwards like Ken Gray, Bruce McLeod and the Meads brothers were as adept as their looseforwards in carrying the ball and taking the attack through the middle of the park.
It was a time when the All Blacks showed there was another way to play the game instead of the dry, attritional-style grinding methods.
How much does that sound like the present All Blacks, who are looking to equal that record run when they play the Wallabies in Brisbane next Saturday?
Great names gilded the 1965-70 squad.
Whineray led the side in the first test of that winning sequence in what was his final international.
That day at Eden Park his fellow forwards were McLeod, Gray, Kel Tremain, Red Conway, Lochore and the Meads brothers while the backs were Chris Laidlaw, Mac Herewini, John Collins, Ron Rangi, Ian Smith, Bill Birtwistle and Fergie McCormick.
Many famous players were then involved in an unbeaten run until the first tests on the high veld in 1970 when the All Blacks started as favourites despite being without Colin Meads, whose arm was broken.
The NZ side which started that test was Jazz Muller, McLeod, Alastair Hopkinson, Sam Strahan, Alan Smith, Tom Lister, Ian Kirkpatrick, Lochore, Laidlaw, Wayne Cottrell, Ian McRae, Grahame Thorne, Bryan Williams, Malcolm Dick and McCormick.
It had been a great run and as Lochore noted, there were no "soft" tests and most were part of series against the Lions, Boks or touring the UK and France.
The secrets, he felt, were their belief in coach Fred Allen, the game plan and the total trust they had that their teammates would be properly prepared for games.
When Allen asked Lochore to succeed Whineray as skipper, the No8 was stunned. He had never considered himself a candidate.
"I don't think Fred gave me much of an option," Lochore said. "I'm sure I made the comment, 'What, me?"'
Lochore believed in his extensive provincial leadership experience but wondered why he got the nod ahead of many others. "The greatest thing was that the other guys who were in line for the job all came in and said they would be totally supportive of me. That made me feel a whole lot better.
"If you didn't listen to their suggestions then you had rocks in your head," he said.
When defeat came eventually, Lochore said the Springboks played with an intensity few of them had shown in their provincial outings.
"It was a very sobering start to that test series," Lochore said.
Perhaps his greatest personal satisfaction was victory against France in Paris in '67 after a great contest.
"We were at the top of our game and so were they. It was an amazing feeling and the best I had in my rugby life. Things went to plan, we won the game, we were exhausted and when the reserves came down from the stand all they saw was us lying on the floor absolutely knackered. We were totally spent and had given every ounce of our energy."
The lowest moment? Meads' sending off at Murrayfield when referee Kevin Kelleher ordered him off for dangerous play.
"It was so unnecessary," Lochore recalls. "Piney kicked at the ball, he did not kick at Chisholm who came in and told us that later. The great shame was the judiciary did not allow Chisholm to give that evidence. That was the part that upset us and Charlie Saxton was mortified."
Strength across the park, Lochore said, underpinned that successful era. He saw many similarities with Steve Hansen's squad. The basis of the team had been there for some time and they trusted one another.
"They believe in the style of rugby they are playing and what they are trying to do," he added.
Lochore was on the selection panel when McCaw was appointed to succeed Tana Umaga as captain.
"He has got used to that role," he said of McCaw."He is an outstanding All Blacks captain, a top bloke and he is a great New Zealander."

All Blacks' record
Sept 18, 1965 v South Africa 20-3, Eden Park.
July 16, 1966 v Lions 20-3, Carisbrook.
August 6, 1966 v Lions 16-12, Athletic Park.
August 27, 1966 v Lions 19-6, Lancaster Park.
September 10, 1966 v Lions 24-11, Eden Park.
August 19, 1967 v Australia 29-9, Athletic Park.
November 4, 1967 v England 23-11, Twickenham.
November 11, 1967 v Wales 13-6, Cardiff Arms Park.
November 25, 1967 v France 21-15, Colombes Stadium.
December 2, 1967 v Scotland 14-3, Murrayfield.
June 15, 1968 v Australia 27-11, SCG.
June 22, 1968 v Australia 19-18, Ballymore.
July 13, 1968 v France 12-9, Lancaster Park.
July 27, 1968 v France 9-3, Athletic Park.
August 10, 1968 v France 19-12, Eden Park.
May 31, 1969 v Wales 19-0, Lancaster Park.
June 14, 1969 v Wales 33-12, Eden Park.

Play Jimungo Virtual End of Year Rugby Tours
Compete for prize money and bragging rights in Jimungo Virtual Rugby Tours - our game for all of the end of year international rugby matches. Simply choose the winning team and margin. Sign up now.