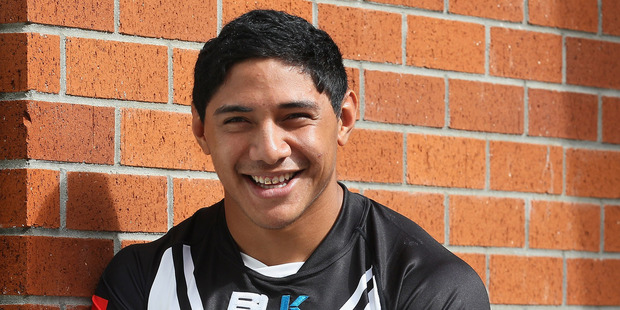 One is focused on representing the Kiwis, the other is not so sure with the lure of State of Origin and big money, but Tuivasa-Sheck and Taumalolo would be happier if the decision was taken out of their hands, writes Steve Deane
Roger Tuivasa-Sheck was born in Samoa, raised in New Zealand, has been living in Australia for a year, and has pledged his future unquestionably to New Zealand.
Jason Taumalolo was born in Auckland, moved to Australia when he was 13, has been 18th man for the Kiwis in an Anzac Test and still admits if Mal Meninga came calling again he'd have to think about representing Queensland in State of Origin.
They have different backgrounds and different perspectives but the pair of 19-year-old Junior Kiwis - young men at the forefront of the international eligibility wrangle that has beset league - share one common opinion: they want to see some rules, and quickly.
That Tuivasa-Sheck, who a year ago was playing for the Otahuhu College First XIII and has played just six NRL games, has already been accosted about his 'Origin' prospects shows just how pervasive the issue has become. The kid hasn't even scored an NRL try, but a couple of encouraging early performances for the Roosters prompted a reminder he would be eligible for Australia in just two years, and questions from a sideline reporter about where his allegiance lay.
"They get on to you pretty quick," he says. "They jump real quick. The questions are just coming along and I was like, 'oh I've got to say the right things here'.
"It was weird that they were thinking like that. I didn't even think I'd be in line for all that stuff. I thought I'd still be playing under 20s.
"Straight away I got told that in two years I would be eligible for Australia. I was like 'oh, okay, sweet, sounds good'."
It's a tough situation for any kid to be put in, particularly when financial pressures are factored in, says Taumalolo.
"Money is a big factor," he admits. "Especially when you are young, you see the big numbers and you get all excited about it. You start thinking about it and it keeps going over and over in your head."
The revered figure of Meninga paying you a visit was also a powerful influence, Taumalolo confirmed.
"At first it is pretty exciting - someone like Mal Meninga talking to me. Most players coming up look up to Mal Meninga, so just having him talk to you is a privilege. To be approached and asked to play for Queensland? It's pretty up there."
That excitement soon turns into pressure, though, particularly when media scrutiny starts to bear. Taumalolo made his decision to stick with the Kiwis in consultation with his parents.
"They wanted me to decide on how I would feel in a couple of years, if I'd be happy playing for Queensland or New Zealand. At the end of the day, heart was at home and I chose New Zealand."
At least for now. The 18th man in May's Anzac test, the strapping back rower has come as close as possible to representing the Kiwis without having yet done so. The way the rules stand, until he gets on the field in a test he is still fair game.
"I hope New Zealand picks me some time soon. It would be an honour to play for the black and white jersey. But in saying that if the Maroons do ask I might think about it."
In words that would be music to Meninga's ears, Taumolo admitted if Kiwis continued to leave him out of the test team and the Queensland coach were to pick up the phone and attempt to recruit him he'd be "back to square one".
Not so Tuivasa-Sheck. The fullback with the twinkling feet has made his call and intends to stand by it.
"I think it would have to be New Zealand and the Kiwis. I love Samoa but New Zealand has just done so much for me. It has got me where I am, provided things for me, so I just want to stick with the Kiwis and play for them.
"It's hard for all the boys. But once again it comes down to who you want to play for. I can say that I choose the Kiwis and I'll stick with the Kiwis."
Tuivasa-Sheck and Taumalolo would be happier if the decision was taken out of their hands. Both favour a rule where a player declares their allegiance prior to their first NRL game and is then bound by that declaration. That way they could get on with what they should be doing - trying to establish themselves as bona fide NRL stars.
"The big thing is trying not to get ahead of myself - with these guys coming and saying I could make that kind of level," says Tuivasa-Sheck. "I've got to stay focused on my game, try not to be over-confident or that will just kill my performance."

Six young men on the front lines of the eligibility battle
Jason Taumalolo, 19
Cowboys. Born in Auckland, Taumalolo moved to Australia when he was 13. Courted by Mal Meninga despite having never started an NRL match (his 21 appearances have all come off the bench), he has pledged his future to New Zealand, serving as 18th man in May's Anzac test.
Roger Tuivasa-Sheck, 19
Born in Samoa but raised in Auckland, the teenage prodigy was scouted by the Roosters playing for Otahuhu College in last year's national secondary schools final. Broke into first grade only months later and has appeared in six NRL games without scoring a try. Has pledged future to Kiwis.
James Tamou, 24
Born in Palmerston North, the Cowboys prop's first listed club is Levin Knights. A member of the Kiwis train-on squad 12 months ago, Tamou accepted overtures from New South Wales and made his test debut in May for Australia against his former training partners. Went on to play extremely well for New South Wales in the latest Origin series and has urged other Kiwis to follow suit.
Josh Papali'i, 19
Born in Auckland but emigrated to Australia when he was 6. Had consistently rebuffed requests by Mal Meninga to align himself with Queensland. But when selected for the Kiwis train-on squad last month the former Junior Kiwi changed his mind, throwing in his lot with Queensland.
Sam Kasiano, 22
Born and raised in Auckland, the NRL's prop of the year moved across the Tasman as a 16-year-old. Lived briefly in Queensland, making him a key target for Meninga. After a protracted saga he eventually chose New Zealand and will debut for the Kiwis on Saturday in Townsville.
Anthony Milford, 18
Wanted by the Junior Kiwis for Saturday's match against their Australian counterparts, the Brisbane born-and-raised junior Raiders playmaker - who has New Zealand heritage and lived in Avondale for a couple of years - declared himself a Queenslander. "I was raised and have lived my whole life in Queensland," Milford said. "I've only been to New Zealand a few times."