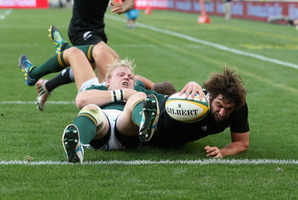 If you're looking for answers as to why the All Blacks appear to have moved up to a new level over the past two weeks in Argentina and South Africa, you probably need to start with how they prepare for matches.
The All Blacks follow routines during the week of a test, but they're flexible enough to change them, just like in Soweto where they dispensed with the traditional captain's run. There are guidelines, but the management - and senior players - are always thinking about improvements.
Everything is done for a reason. For instance, how do they maintain the sort of intensity which blew away the Springboks in the second half of their Rugby Championship test in Soweto on Sunday? Answer: That's how they train.
The All Blacks' final training session of the week before a Saturday test is held on the Thursday. In the morning the team will have a run-through in preparation for the afternoon's training. In other words, they effectively train for training runs.
Each player is expected to know his role intimately. The morning is his chance to seek "clarity", the word that so often comes up in All Blacks' press conferences. Clarity allows players to act instinctively rather than pausing to think.
Training on Thursday is all about intensity. The players don't stop for mistakes as they once did. They reason, quite rightly, that opposition teams don't stop for All Blacks' errors - they try to take advantage of them - so they should train that way.
Coach Steve Hansen highlighted the importance of preparation after the 32-16 thrashing of the Boks when talking about the careful management of workloads following the travel from Argentina, where body clocks still hadn't adjusted to local time. It allowed his players to punish the Boks with some of the toughest defence of the series before piling on 20 unanswered points in the second half.
"We know we have some very talented players, but so have a lot of other teams," Hansen told reporters. "The difference between us and them is that we are perhaps getting our preparation right during the week and ensuring that our players have the best chance to perform on the Saturday."
No8 Kieran Read, a standout player for the All Blacks through their clean sweep of the Rugby Championship, said recently the preparation was still a work in progress, particularly the Thursday session.
"Thursday has got to be intense I guess and it's good for getting us prepared for the game, but we haven't probably got that accuracy to go with that intensity so far. That's what we're striving to do. It's tough because we're putting ourselves under a lot of heat with the pace we're playing at. It's definitely taking a toll on our bodies but we've just got to get our accuracy up to that level."
In the two most difficult tests of the year for the All Blacks - away matches to Argentina and South Africa - they achieved that and more.
As for the fitness levels which make the All Blacks so difficult to stay with, Read added: "That's what you want to achieve. It's really good to start games well but if you can finish well with a lot in your tank - sometimes if the game is tight that's when it's needed, so that's a big positive for us."
apnz pm lb
- APNZ