World's fastest man can go faster still over 100m, say statisticians and sports experts.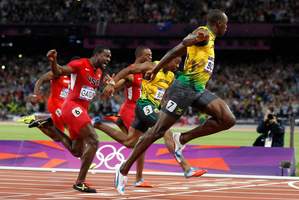 Few doubt that superstar sprinter Usain Bolt will break more records, but experts are unsure whether he is close to achieving the maximum in human performance.
Bolt arrives in Auckland today on a whirlwind promotional visit for sports drink Gatorade, giving tips to promising New Zealand athletes and training with the Breakers basketballers.
The Jamaican has not bettered the 9.58 seconds he ran for the 100m in Berlin three years ago - he ran 9.63 to win gold at the London Olympics - but experts agree it is only a matter of time before this happens.
What they can't agree on is whether world-class sprinters such as Bolt are nearing the absolute limit of human performance in this event.
High Performance Sport New Zealand physiologist Dr Angus Ross said there had been little progress in the 100m over the 20 years before Bolt came along.
He said an interesting comparison was the 110m hurdles, which had seen its record time fall only marginally from 12.93s to 12.87s since the early 1990s, while the 100m sprint time had fallen from 9.93s to Bolt's 9.58s over the same period.
"The main difference is the number of steps, and unless somebody can take two steps between hurdles they won't change much because of that limitation in the stride rate," said Dr Ross.
"But that's Bolt's big thing - he doesn't have to reach and does it with fewer steps."
Dr Ross said Bolt could "always go faster" and believed his best was still to come.
"I think being so talented, I don't think he's been challenged yet so potentially he's worth more than what we have seen - if he stays injury-free."
Athletics New Zealand sprint coach and sports scientist Dr Joe Hunter said the ceiling for human performance in the 100m event was puzzling but improvements in technology, equipment, racing surfaces, training and science all pointed to Bolt's record being broken, and then some.
"That's the million-dollar question, and if there is that limit - and there probably is somewhere - how do we find it and how do we calculate it ? As far as I know there is no one who has come out and said that limit is nine seconds.
"We never know what could happen in two or 300 years from now."
An article by statistician Steve Hollings in the European Journal of Sport Science last year calculated that if Bolt produced the same performance of his Berlin run at altitude and with a tailwind, he could slash his time to 9.48s.
"He doesn't have to get any better to get faster but if he ran it under the conditions allowable under the rules, with a 2m per second tailwind and at 999m altitude, then he would run this time."
In 2008, scientist Mark Denny of Stanford University in California published a paper using a statistical technique called extreme-value analysis. He found the human speed limit was 10.55m per second - which translated to 9.48s for the 100m.
But John Barrow, a professor of mathematical sciences at England's Cambridge University, believed if Bolt improved his reaction time and had the tailwind and altitude advantages, he could clock 9.44s.
"With the relatively big chunks we've seen Bolt take out of world records, we are still a long way from understanding the limits of his and others' sprinting speeds."

By the numbers
100 metre record times
* In August, an 11-year-old cheetah named Sarah clocked 5.95 seconds over 100m at Cincinnati Zoo - reaching a top speed of 98km/h.
* Bolt's top speed during his record-breaking 9.58 seconds 100m run in Berlin 2009 was 43.9km/h.