Herbert's new-found heroes prove a revelation as Sydney's Italian superstar Del Piero is kept in check.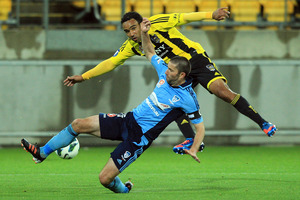 Phoenix 2
Sydney 0
There's been only 90 minutes of football but already fans should like what the Wellington Phoenix produced in their richly deserved win over Sydney FC on Saturday night.
From the first touch until their last, the Phoenix scoffed at predictions from across the Tasman that Ricki Herbert's team will be licking the wooden spoon come season's end.
Far too early to predict a fourth straight trip to the playoffs, but if this is the base from which this team intend to grow, bring it on.
There were new faces and a reshuffle but the deckchairs quickly appeared to find their place as 11 committed players set about nullifying the threat posed by Italian maestro Alessandro Del Piero and a much-hyped Sydney side.
For the opening 20 minutes the Phoenix were the only side in it.
In those opening exchanges the home side played the ball into the Sydney penalty area 11 times with nine producing a shot on goal. The visitors managed just two and one (shot).
Herbert, never afraid to mix and match to get the best from his players, played a couple of trump cards.
In switching Leo Bertos to right back, he freed up Manny Muscat to play his favoured midfield destroying role. He did that superbly - and without any yellow cards - and showed as an attacking weapon he has plenty to offer.
He set up debutante Stein Huysegems for a well-taken first goal for the Belgian international striker and did even better with 15 minutes to play with a sublime ball in for another first-timer, Louis Fenton, to crash home with a diving header.
But the performance went much deeper than those superbly crafted goals.
Handed overlapping rolls, full-backs Bertos and Tony Lochhead answered the call to get forward with aplomb. Too often in the past Lochhead's preference has been to look back rather than forward.
Not any more, it seems. He added a dimension on the left flank which continually stretched the Sydney defensive resources with Bertos teaming with livewire Benjamin Totori to pose a real attacking threat.
Fenton was a revelation. Promoted from the Phoenix academy to a starting spot, the 19-year-old turned in a Marcos Rojas-like performance to give the faithful plenty to cheer about.
While the pre-match talk was with Jeremy Brockie and his pre-season goalscoring deeds, Totori, Huysegems and Fenton stole the show with a bubbling, workmanlike performance which made life easy for Paul Ifill when he replaced Totori on the hour.
Alex Smith and Muscat made the midfield almost their own, only losing a little ground when Del Piero dropped back to lend a helping hand to his under siege teammates while at the back the central defensive pairing of Andrew Durante and Ben Sigmund carried on from where they left off six months ago.