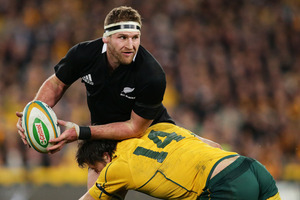 As Steve Hansen considers life without Richie McCaw for part of next year, one thought at least will reassure him - in Kieran Read, he has the perfect replacement as captain.
Read is the only logical choice as skipper when McCaw takes his well-earned sabbatical, although Conrad Smith and Keven Mealamu have experience as leaders for their respective Super Rugby sides, the Hurricanes and Blues.
Read is an automatic selection at No 8. Smith can name himself at centre too, such is his consistency, but Mealamu is now seen by Hansen as interchangeable at hooker with Andrew Hore.
He said recently that if he could issue them both No 2 jerseys, he would. Both Smith, who is almost 31, and Mealamu, 33, are older than Read, who turns 27 in a couple of weeks. Time is against them.
Dan Carter is the vice-captain. His last brush with the captaincy was memorable; he was named with a C next to his name to play Canada in the World Cup and we all know what happened next.
He has the VC role due to his experience rather than his leadership abilities and is unlikely to be given the burden of captaincy along with his playmaking responsibilities in important tests.
Read's importance to any side he plays for is undeniable. The fact a rib injury kept him from playing for the Crusaders in their semifinal against the Chiefs in Hamilton this season meant the red and blacks were always going to be up against it, and so it proved.
They lacked his expertise at kick-offs and, more crucially, the go-forward ball he provides. He has the ability to explode on to the ball but also the nous to seek out defensive weak points so he doesn't always run into brick walls.
He relishes the physicality; the only concession to it is to be smart at training, he says.
However, there is also an intangible which is important in a captain - the ability to find a rapport with, and subtly influence, referees.
McCaw is a master at this and Read is learning fast. He gets on well with the Southern Hemisphere referees due to his leadership role at the Crusaders in the absence of McCaw but he is careful not to cross the line.
"I do talk to refs," Read says. "But when Richie is on, you have to be careful which ones you talk to. Some don't like speaking to players other than the captain. But, yes, I do have a rapport with a quite few due to my time at the Crusaders."
Read will again captain the Crusaders in his absence.
"It'll be good for him," said McCaw of that appointment.
"I suppose he's had a fair amount of time there and he's getting better and better all the time. I'm sure he'll enjoy it."
On the All Black front, with Northern Hemisphere referees likely to be controlling next year's three June internationals against France, this is one area he may need to fine-tune.
As a role model, there are few better. He puts his consistency down to his mental make-up and the fact he is prepared to work hard. Aerobically, he is probably second only to McCaw in the forwards.
The countless lengths of the Rugby Park pitch at Crusaders HQ when trailing the openside flanker in shuttle runs will have boosted this immeasurably. As a training partner, you can't get much better than McCaw.
Read, a friendly but private individual and a real family man, wants the big job. He has admitted it would be an honour to take on McCaw's mantle and he enjoys the leadership role, especially on the pitch.
The other bonus for Hansen is the progress of Sam Cane, being groomed as McCaw's successor in the No 7 jersey. Cane has a toughness and eagerness to learn, reminiscent of a young McCaw and he hasn't put a foot wrong in his fledgling test career.
The progress of the 20-year-old should be watched closely. It's early days but he could have what it takes to assume a captaincy role in the future.
It is in Read that Hansen and the All Blacks have a real gem, however; a ready-made replacement for one of New Zealand's best ever captains.
"I'd love to," Read said of the captaincy. "It would be a huge honour for myself and everyone involved in my career. I guess I just have to see what happens and enjoy playing this year."
Asked what he would bring to the role, Read replied: "I'd offer who I am and do what's best for the team. That's what I'm about."
Spoken like a true captain.