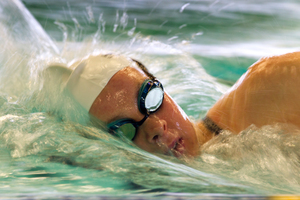 New Zealand could be sending their biggest team to a world short-course championships in December.
Eight swimmers have qualified for the five-day biennial event in Istanbul, starting on December 12. By comparison, just Christchurch's Sophia Bachelor attended the last short-course worlds in Dubai in 2010.
Of the eight, North Shore freestyler Lauren Boyle, fellow Olympian Melissa Ingram and Bachelor have produced top eight qualifying times, Boyle and Bachelor at the national short-course championships in Wellington this week, Ingram at the World Cup in Dubai last weekend.
That assures the trio of full funding for the trip.
But the other five - Glenn Snyders (North Shore, 100m breaststroke), Cameron Simpson (Queensland-based, 50m freestyle), Matt Stanley (Matamata, 200m freestyle), Corey Main (Howick Pakuranga, 100m backstroke) and Ewan Jackson (Howick Pakuranga, 200m freestyle) - are likely to get only partial funding because their performances, though reaching the Fina A standard, weren't good enough for a top eight status.
Olympians Snyders and Simpson have another chance to get full funding when they contest the second short-course World Cup event in Doha this weekend.
"Top eight will get full funding," Swimming New Zealand acting chief executive Mark O'Connor said yesterday. "The balance will be subsidised. It's the degree of partial funding [that is to be determined]."
The only question left is whether those required to find a percentage of their own funding can do so.
Boyle ensured full funding for herself with a storming swim in the 800m in Wellington. In the event in which she finished fourth at the London Olympics, she swam 8m 15.73s, 13s under the qualifying mark and sixth best in the world this year.
Ingram has qualified for the 200m backstroke and 400m freestyle; Bachelor is in the 100m butterfly and 200m backstroke, the latter the event which ensured her full funding.
• SNZ regions completed voting on three elected positions on the restructured SNZ board yesterday. The new board will have three appointed members, including new chairman Brent Layton, and three elected.
Each of Auckland's Gabrielle Rush, Ian Hunt of Canterbury and prominent coach Clive Power must receive 50 per cent of the regional vote to be elected. The three were put forward from a short-list of 14 by SNZ's appointments panel.