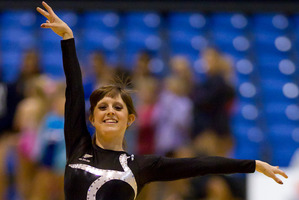 Sarah-Jane Jones is New Zealand's big hope in the world roller figure-skating championships under way at the Trusts Stadium in Henderson.
The 25-year-old from Lower Hutt is taking part in her 13th and final individual world event, and believes she can win a medal in the solo dance to add to three previous bronze medals. After three practice days, Jones will compete on Thursday and Friday. She chats to the Herald.
What are your medal prospects?
Good, with this being in my home country. The Oceania championships were held here this year and we had a squad training a few weeks ago so I know what to expect with the floor. There will be heaps of crowd support and I feel well prepared.Does the floor make a big difference?Some years we have had really hard floors to skate on because they are too slippery or it leaks when it rains and things like that. This floor is amazing to skate on, with a really good grip.
What's the worst floor you have skated on?
We had a very slippery floor in Taiwan and they washed it with a mixture of stuff that included Coca Cola. It worked.Who is your toughest competition?The Italians and Americans. The Italians are the bigwigs and everyone aspires to be like them. They did lots of research into what makes a good skater and then taught the sport the same way throughout the country.
What got you into roller skating?
When I was 4 I was part of a kindergarten trip to a local roller rink and I just loved it from there. My goal when I was 5 was to be a world champion.
Your dad, Basil, plays a big part in your career ...
My mum always took me to training but around 1997 she had a car accident and dad took me for a few months and decided to take it up. He became the national masters champion and went to the Oceania championships.
Is it difficult competing at a high level in a minor sport?
Coaching is my job so I get to be involved all the time and I have a business that sells skating equipment. Skating is my life ... others have to work full-time and try to skate around that, which can be difficult.
Roller skating or inline - what's the difference?
I prefer quad because that's how I learnt to skate. It feels more stable, more secure, whereas I don't feel like I have the same control with inline. But if you learnt to skate on inline you would probably find them better to control. Inline hasn't been around as long but they are definitely getting up there with the tricks.
Did you ever contemplate another career?
I've been to university a few times but nothing stuck. I was a hairdresser at one point, but skating is my life. Hairdressing did give me some skills ... I can do my skaters' hair. I do my own makeup and one of the girls I coach [Emma Hazelwood], who is my best friend, is a hairdresser, so she does my hair.
Injuries?
I don't fall over so much now but I lost count when I did those floor jumps. It doesn't hurt in the end. You just get up and move on. I broke a bone in my face when I was kicked with a skate.
Why retire now?
I've been doing this for 22 years and I feel the time is right at the home worlds.
Will these championships help boost your sport?
I hope more people get interested and excited ... the sport is very athletic but also really beautiful and so artistic. It is really good for fitness and with younger kids helps develop co-ordination.
Iceskating has jumped ahead thanks to the Olympics ...
The Winter Olympics definitely helps them and we might be in the Olympics one day, too. We are always on the shortlist of new sports ... that would be a big boost.