Cocky US writer, too much Bulldogs spirit and some smelly Sox.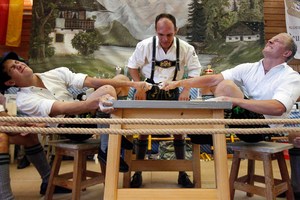 There's nothing like a premature celebration to warm the cockles and this one from the normally solid Gene Wojciechowski on espn.com is a beaut.
"MEDINAH, Ill. - For those who think this Ryder Cup is finished, think again. Team Europe can still win if the following five things happen Sunday:
- Keegan Bradley is abducted.
- Team USA captain Davis Love III inserts spectators Michael Jordan, President George W. Bush, Amy Mickelson and the Rev. Jesse Jackson into the singles lineup.
- Lee Westwood: US citizen.
- Marty McFly shows Team Europe captain Jose Maria Olazabal how to go back in time. Last Friday morning will do.
- Team Europe wins eight of the remaining 12 matches to retain the cup.
Never mind. It's over. Olazabal can click off the walkie-talkie and take the IFB out of his ear. Time for the Europeans to fire up the private jets and head back home to Florida."
Doggies' style
Try as they might "The Family Club" just can't shake their reputation as one of the less likeable NRL entities. Just when the Bulldogs seemed to be putting Coffs Harbour, the salary cap scandal and the Hughes/Mortimers/Moores internecine warfare debacle behind them, Mad (oh dear here we go) Monday comes around. As well as an indecent suggestion or two, "I want to go and punch you in the face" was also aimed at Channel 9 reporter Jayne Azzopardi when she turned up to cover the "celebrations".
Rox sux
The demise of the Boston Red Sox - the club finished last in its division and shopped its best players in a fire sale - has taken little heat out of the bitter rivalry with the Yankees. "My challenge now is how many different creative ways can you say 'Boston sucks?'," says Yankees fan and T-shirt salesman 'Bald Vinny' Milano. "It doesn't matter if the Sox are 20 games out of first place. In fact, I think there's even more enjoyment now kicking them when they're down."
(Not) the real deal
With Kevin Pietersen back in the England fold, what better time to re-live one of the great sports parody Twitter accounts. The great English batsman got a tad miffed when he discovered his team-mates were following an account that made relentless fun of his genius. "Note to ex-pros. Make sure you're better than KP before you have a pop. Which means unless you're Don Bradman, keep your mouth shut," was a typical KP Genius tweet. Or, "People who say Test Cricket is the pinnacle haven't played IPL in front of 80,000, slapping Indian medium pacers about at a 141 per cent strike rate." The man operating the account, Richard Bailey, is a friend of England T20 skipper Stuart Broad. Should make for an interesting dressing room when the great man returns.
Gayle warning
Sri Lankan police broke up a Gangnam-style party in Chris Gayle's hotel room on Wednesday night. Andre Russell, Fidel Edwards and Dwayne Smith were partying with three female British fans, who were taken away and arrested before being released on bail. "If you want to see Chris Gayle, stripped to the waist, performing his Gangnam dance, get to our hotel now. Serious Windies party," BBC commentator Jonathan Agnew tweeted. For the uninitiated, Gangnam is dance craze sparked by the YouTube success of South Korean rapper PSY's single Gangnam Style. Makes you feel old, dunnit?