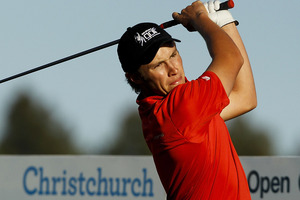 Ben Campbell is looking to bow out from amateur golf in style.
The 21-year-old, who recently safely advanced to the second stage of qualifying for the European Tour in 2013, will represent New Zealand for the final time at the world amateur team's championship in Turkey when he teams up with Vaughan McCall and Mathew Perry.
The trio are hoping to emulate the feats of Phil Tataurangi, Michael Campbell, Grant Moorhead and Stephen Scahill, who won the Eisenhower Trophy in 1992.
Campbell, who achieved a career-high ranking of No 6 in the world during his amateur career, believed the Eisenhower was the perfect place to end his amateur career.
"It's the biggest event in the world for amateur golf and to be playing for your country it's going to be pretty cool, so I don't think you could go out on a better amateur event," said Campbell, who is one of only five amateurs to win on the Charles Tour.
He has been a New Zealand representative for the past three years and in 2010 teamed up with Ryan Fox and Peter Spearman-Burn to finish fourth. He was also fourth on the individual standings. It was the best performance by a New Zealand team since they won the event in 1992.
"We had a pretty successful time last time and it was just a really good learning experience for me," Campbell said.
"You've got all the top players in the world there, the three top players from pretty much every country, so you really get to see how you match up against everyone. It's always in a world-class facility so it's just a really good place to match yourself and see how everything's going with your own game."
The trio recently attended a camp at the New Zealand Golf Academy at in Cambridge where Tataurangi, who was the leading individual at the Eisenhower when New Zealand won the event 20 years ago, was on hand to offer some advice.
Campbell recently underwent foot surgery to heal a recurring injury and travelled to Turkey via the US to spend time with his coach.
He is focused on bowing out of amateur golf in style and said belief is all-important.
"We have a great team. Every time I enter a golf tournament it is to win it and I know the other guys are the same. All of the boys have enjoyed good success over the past two years, so why not?
"It will be an emotional time walking away from New Zealand amateur golf but I can't think of a better way to go out than winning the Eisenhower."
- APNZ