Team New Zealand calls in veteran as cover for wing-sail trimmer out with damaged ribs.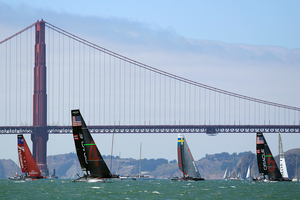 Injury-enforced crew changes are an inevitable reality for Emirates Team New Zealand in the new fast and physical world of America's Cup sailing, says Adam Beashel.
The veteran sailor is a late inclusion in the Kiwi team for this week's America's Cup World Series regatta in San Francisco, flying in to replace wing-sail trimmer Glenn Ashby, whose ribs were damaged in a training accident last week.
Ashby is the latest of a string of injuries dating back to the Naples regatta in April to hit Emirates Team New Zealand.
Winston McFarlane and James Dagg both spent time off the boat in previous regattas, while skipper Dean Barker has revealed he sailed with two broken ribs in the last event in San Francisco.
Barker has been frustrated by on-going crew disruptions, but Beashel said it was something the team would have to get used to.
"Something like this, the rest of the crew's mindset has to be if you're sailing with a certain group of people and there is a late change, you have to adapt, because it is going to happen more and more."
Raced at speed around narrow courses in high-powered catamarans, the America's Cup has become an extreme sport.
Capsizing is now common - there were four in the last regatta in San Francisco. It only takes the bow of a boat slamming into a wave at the wrong angle for the whole thing to tip. As a result, impact-type injuries have also become more common.
"Sailing these boats is just that much more physical," said Beashel. "There's more things for you to bang your heads on and hit yourself against as you're getting from one side to another.
"The accelerations and decelerations can catch you mid-stride and throw you and knock you."
After three days training with the team, Beashel is getting up to speed with the AC45s. His progress was helped along on Sunday during Team New Zealand's intensive practice races with Ben Ainslie Racing and Energy Team France.
"There's just some things that differ from one person to the next so we just have to make it as seamless as possible, but it's never perfect," said Beashel. "It's more just me learning the boat more than anything rather than communication, because that's been there for a while. Myself, Ray [Davies] and Dean [Barker] have sailed together for a while now so we know each other pretty well."
Davies, the team's tactician, said that after a couple of days of heavy wind, he was pleased the crew got a chance to test themselves in lighter conditions.
"The breeze was a lot lighter than what we've had so we had the big gennaker up, which is more physical on the guys and we didn't have any crew-work issues."
World series rankings
1. Oracle Team USA (Jimmy Spithill)
2. Luna Rossa (Piranha)
3. Team Korea
4. Energy Team
5. Luna Rossa (Swordfish)
6. Artemis Racing (White)
7. Emirates Team New Zealand
8. Oracle Team USA (Russell Coutts)
9. Artemis Racing (Red)
10. JP Morgan BAR
11. Team China.