There were eight Kiwis involved in Sunday's NRL grand final. It wasn't always that way. In the first part of a two-part series on Kiwis making it big in Aussie league, Chris Rattue traces the embryonic years of the transtasman league migration and talks to some of the pioneers who headed west with big dreams ... once the NZRL let them do so.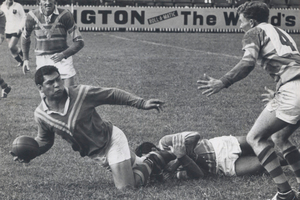 This time of year is packed with top-level junior rugby league action, when the NRL's scouts pack their bags to check out the New Zealand tournaments and representative clashes.
What started as a haphazard plucking of New Zealand players by Sydney premiership teams 40-plus years ago has turned into a systematic trawling of this country's young footballing ranks, the bedrock to what continues to be a radical reshaping of the Australian club, State of Origin and test scenes.
How times have changed. When the Winfield Cup, as it was called then, exploded via television coverage in the late 1980s, just two Kiwis players dominated the scene - Balmain halfback Gary Freeman and workmanlike Canberra prop Brent Todd.
The Kiwis who shocked the Kangaroos at Melbourne in 1991 contained only five Australian-based players, plus eight from England and - believe it or not - four from Auckland clubs. The migration to northern English clubs was the dominant theme of the 1980s, stripping the New Zealand game almost bare.
Australia now rules. The Auckland-based Warriors aside, there are more than 100 New Zealand-born players spread throughout the NRL first grade and junior Toyota Cup competitions, and the charge across the Tasman will increase further, according to everyone involved.
After the 1980s trickle, about 30 players were in Australia by the mid-1990s when a handful of New Zealanders in the Sea Eagles ranks earned that club the Maori-Warringah nickname. Nowadays, a team with four or five Kiwis doesn't get a second look.
New Zealand is packed with raw talent, most of it of Maori and Pacific Island heritage, in young league and union teams. Like all good first graders, the Aussie clubs now dig deep. Whereas 20-odd years ago rumours of an established New Zealand club player going to Australia would attract a headline or two, the modern superstar Sonny Bill Williams made his transtasman move in teenaged obscurity.
Another form of migration, for work opportunities, is also having an effect with a stack of Kiwi-eligible players emerging from east Australian cities.
There were eight Kiwi players involved in this year's grand final between the Storm and Bulldogs, including the Auckland-born Krisnan Inu who grew up in Sydney's western suburbs. As headlines show, a mish-mash of histories and cultures is producing dilemmas and conflict over national allegiances unimaginable in the good old days.
"This is just my opinion, but it is as much about people and families going to Australia for economic reasons as it is a rugby league story," says Junior Kiwi and Warriors Toyota Cup coach John Ackland, himself a former Kiwi. "It also leads to how people feel about their identities. Many of those in Australia still strongly identify as New Zealanders but of course there are others who don't."
Timing and opportunity can help shape identity, as it probably has in the high-profile case of the tough young Canberra forward Josh Papali'i, who was Auckland born, Queensland-raised, a Junior Kiwi now gunning for State of Origin and Kangaroo selection. There are so many stories like this, each with their own twist. Another player on the rise is young Roosters forward Dylan Napa, an Australian-born Junior Kangaroo prospect whose father Stan was a fine player for Otahuhu. Then there is the case of Nathan Cayless, the Kiwi World Cup winning captain of 2008, who was born and bred in Sydney.
Rugby league allegiances were simpler in the early 1970s when Kiwi centre Bernie Lowther was scooped up by the Bulldogs and became a forerunner to the stream of transtasman young guns, the irony being that shifting to Australia ended international careers instead of making them in those days.
Sydney club bosses that players like Lowther hardly knew might arrive in town offering places in a competition they knew all about and wanted to play in, but had never actually seen. Decisions were made in an instant, ones that broke bonds, formed new ones and changed lives.
When the Herald tracked down former Richmond back Lowther in Brisbane, he recounted a happy life still being well lived, and yet there were touches of regret and a certain longing for friends left behind.
Lowther left in his early 20s, which was quite young for the day. Born and raised in Waterview - where his parents still live in the same family home - he was in the never-to-be-forgotten Kiwis side of 1971. Having smashed a star-studded Australian side at Carlaw Park, they scored the first ever series victory in Britain and finished the job off against France.
Red tape and clearance fees were all the rage. Lowther had been encouraged to join Wigan by the New Zealand Rugby League, who then mysteriously put clearance obstacles in his way. He believes the NZRL, led by Ron McGregor, suddenly feared the champion Kiwi side risked burnout, but the riddle remains.
"I was pretty pissed about what happened with Wigan," says Lowther, who still has the signed contract which promised £50 [$97] a week plus £22 for a home win, £25 away and a fortnight's holiday anywhere of his choosing each year.
So instead of hopping between England and New Zealand, and keeping his Kiwi prospects alive, Lowther - a freezing worker - jumped when Canterbury-Bankstown called. They offered $8000 a year, plus $250 a win, and he didn't hesitate. Peter Moore, making his name as a legendary club boss, and coach Bob Hagan came to town and, with Lowther family friend Kevin Ryan - a famous lawyer - in attendance, the deal was done.
Sydney rugby league was the wild west of sports and among the gunslingers Lowther encountered was notorious team-mate Neville Hornery. Lowther, having kicked off in maybe his first game, heard Hornery yelling "fan, fan, fan" to team-mates who duly cleared a path so Hornery could wipe out the St George prop they had tackled. A stretcher was required. When he met current Kiwis recently, Lowther smiled at their reaction to hearing of old Sydney forwards putting rolled newspapers down their socks, so they "didn't get the **** kicked out of their legs."
The 62-year-old Lowther says: "We were virtually the New Zealand pioneers over here and I loved my time at Canterbury and Souths.
"There were a lot of characters, a lot of hard nuts, and after a bit of fisticuffs you would have a beer with the same blokes.
"I'm not sure if it was an official rule, but once you were playing outside your country in those days, that was the end of the representative career. So that was it for me with the Kiwis. It's why I had been so keen to play between New Zealand and Wigan.
"I'm glad I came to Australia, no two ways, but I thought I'd be young enough to go back home and play. I liked it here and never went back - it's just the way it worked out.
"I think about home a lot. I think of the blokes I grew up with, good footballers a lot of them, who I have never seen again.
"I try to get to the Kiwi reunions."
Another of the transtasman originals was the tough Kiwi, Auckland and Marist prop Oscar Danielson, oft-described as the first Polynesian or Samoan to play in first grade.
The venue, numbers and men who change his life are easily recalled.
Harry Bath spotted Danielson while coaching Australia and lured him to his Newtown Jets club around 1970. They met at a central Auckland hotel, not a lawyer in sight, and the ageing forward accepted $2000 a year, plus $100 a win, $60 a draw, and $50 a loss. The club had to pay a $12,000 fee to the NZRL who had paid Danielson - a wharfie who also worked at a Parnell pub - "five lousy dollars" for each of his five tests.
Danielson moved to Australia with his wife (who passed away four years ago) and kids - most of whom have returned to New Zealand - and combined football with driving a linen truck around Sydney. Like Lowther, he has never lived in New Zealand again and enjoys a reunion.
Danielson, aged 73, says: "I think I was the pioneer. If it wasn't for me, maybe they wouldn't have all the Polynesians there today. The game suits Polynesians. They are strong.
"Some of the young ones get big headed though and don't make it. It is a hard place to come to if you don't put your mind into what you are doing."
These old stars are gone and kind of forgotten, unlike the high profile players in today's TV-dominated age. Lowther says it is nice to be remembered all these years later. Danielson thanks the Herald for ringing.
"It is very different now with so much money," Danielson says. "That's how the cookie crumbles. I was born in a different era and happy with what I did."
The 70s Pioneers
* Oscar Danielson,
Newtown Jets
* Bill Noonan,
Canterbury-Bankstown Bulldogs
* Bernie Lowther,
Canterbury-Bankstown Bulldogs
* Henry Tatana,
Canterbury-Bankstown Bulldogs
* Eddie Heatley,
North Sydney Bears
* Dane Sorensen,
Cronulla-Sutherland Sharks
* Kurt Sorensen,
Cronulla-Sutherland Sharks.
Tomorrow: How scouts get their prospects across the line; and we talk to Shaun Kenny-Dowall, who refused to take the advice that he wasn't good enough.