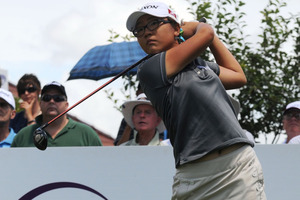 New Zealand faded to finish in a share of fifth place at the Espirito Santo World Amateur Teams Championship in Turkey, but once again Lydia Ko created history.
The Kiwis, who trailed the Republic of Korea by five shots heading into the final round in outright second place, finished on an eight-under par team total of 568, still five shots behind the Koreans who became the first team in 22 years to capture consecutive titles.
World No1 amateur Ko led the way again for the New Zealand team with a four-under par 68 in the final round at the New Course of the Gloria Golf Club. She was well supported by international debutant Munchin Keh (74) who carded her third counting score for four rounds in Antalya.
Waikato No1 Emily Perry, in her final amateur event representing New Zealand, had the non-counting four-over par 76 as the Kiwis couldn't keep pace with their rivals.
Korea won by three shots from Germany, with Australia and Finland in a share of third place and the Kiwis one shot back tied with Spain.
The 2012 team performance ranks as the fourth-best effort by a New Zealand team since the event began at the Geneva Golf Club in 1964.
New Zealand has finished runner- up twice in the World Amateur Team's Championship in 1982 in Switzerland and in 1990 when they were hosts at the Russley Golf Club.
Ko carded rounds of 70, 69, 67 and 68 for a 14-under par total to finish as the leading individual, six shots ahead of Krista Bakker (Finland) and Camilla Hedberg (Spain).
She was the first New Zealand woman to finish as the leading individual at the World Amateur Team's Championship and followed in Phil Tataurangi's footsteps, who achieved that feat in Canada in 1992.
The teenage superstar was also awarded the Mark H McCormack medal at the prizegiving for being the game's outstanding amateur in 2012.
Ko became the first woman to receive the award for the second year running.
"It is really special to win this award again," said the 15-year-old.
"I have never lost the World No1 ranking since I got it last year and I am very proud of that achievement."
The men's Eisenhower Trophy begins in Turkey this week with Ben Campbell (Masterton), Vaughan McCall (Gore) and Mathew Perry (Hamilton) looking to emulate the feats of the 1992 team, who famously won the title in Canada.
Women's World Amateur Team Championship
Top 10, Antalya, Turkey.
563: South Korea 144 136 141 142
566: Germany 144 141 144 137
567: Finland 148 139 143 137, Australia 144 141 142 140
568: Spain 143 143 142 140, New Zealand 143 142 141 142
569: Canada 143 142 142 142
570: United States 148 143 137 142
572: France 144 143 144 141
574: Japan 143 142 145 144.
- APNZ