Disarming the West Indies batsman is vital to New Zealand's survival in World T20.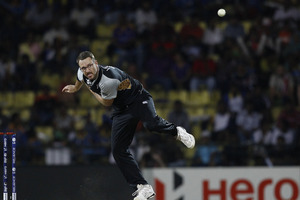 As jobs go in international cricket, trying to dismiss West Indies batsman Chris Gayle would be up with fielding at short leg to Viv Richards or facing Michael Holding after you've nicked a catch but haven't walked.
Few players are as pivotal to their team's results at the World T20 in Sri Lanka. When Gayle scores runs, the West Indies tend to win; when he doesn't, they tend to fold.
Gayle's performance is pivotal to New Zealand's survival tonight. The loss to England means New Zealand's chances of making the semifinals are beyond their control.
They need to beat the West Indies convincingly to boost their run-rate. To finish second in their Super Eights group they have to hope Sri Lanka do likewise to England.
Someone has to be the Gayle sniper. Cue Daniel Vettori. When asked whether he'd like to volunteer, Vettori replied "No" and chuckled.
"I've bowled to him plenty in the nets [when the pair played for the Royal Challengers Bangalore in the Indian Premier League] and those balls go a long way."
Vettori eventually confided he would be stepping up to offer his guile to dismantling Gayle's defences, after returning to the New Zealand side for T20's international showpiece. He says generally bowlers only get a small window of opportunity.
"I think it is a job for one of the experienced bowlers, perhaps Nathan [McCullum] or myself. In the IPL we saw off-spinners like Harbhajan [Singh] and [Ravi] Ashwin trouble him a little, but generally it is only in the first six to 10 balls of his innings. If he gets past that, he can be incredibly destructive against spin.
"You could not say there is any definitive weakness in his game. He's a patient T20 batter. He allows himself to get in. If you can dismiss him early in his innings it changes the whole context of the game. The team feeds off him; he takes pressure off other batsmen. We saw the way Johnson Charles played in the first Super Eights game [against England] with Gayle beside him. Things changed a lot against Sri Lanka when they dismissed him early. It is imperative to our chances of winning."
The other player New Zealand need to neutralise is off-spinner Sunil Narine, who dominated them in the West Indies across all formats including seven wickets at an average of 6.57 and economy rate of 5.75 in the two T20s. Narine also helped the Kolkata Knight Riders to this year's IPL title where Brendon McCullum kept to him at his best, taking 24 wickets at 13.50.
"I've only faced him in a test match where he was a bit easier to pick," Vettori says. "When the white ball gets older it becomes really difficult to see out of his hand with a scrambled seam. Having Brendon here is a huge asset as someone who knows his variations. Guys are accessing that information and a number of us played him in the IPL so we should have a fair read."
Narine has taken just one wicket in four matches.
Andrew Alderson flew to the Twenty20 World Cup in Sri Lanka courtesy of Emirates Airline (www.emirates.com/nz).