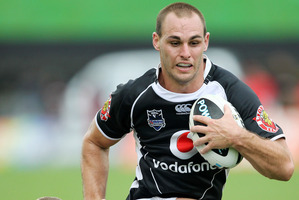 Just as spring means unexpected rain, and the switch to daylight saving always brings clock confusion, you know it's transtasman test time when the Kiwis have a centre dilemma on their hands.
Following a pattern of recent years, Stephen Kearney's team will go into the match in two weeks without their two recognised three-quarters. The absence of Steve Matai and Shaun Kenny-Dowall leaves a significant hole but Kearney is confident he has the players to step up.
"Simon [Mannering] has done the job for us there - and very well - on many occasions and he is definitely an option," Kearney told the Herald on Sunday. "Krisnan Inu has been very impressive and has come back well after a difficult start to the year, while we also have Gerard Beale and Dean Whare in the mix."
In recent years, the Kiwis have used plenty of part-timers in the No 3 and 4 jerseys, including Beale, Lewis Brown, Mannering, Hohaia, Bronson Harrison and (most bizarrely) Kieran Foran. In contrast, the Australians always have specialists to call on, in what is rated the hardest position defensively.
Mannering is a solid option but reduces the firepower out wide (and removes some workrate from the pack), while Inu is in form but would be targeted by the Kangaroos.
Meanwhile, Kearney is upbeat about the overall prospects ahead of the Townsville clash, particularly heartened by the form of the eight New Zealanders who will feature in tonight's grand final.
"From my perspective, everything is coming together nicely. A lot of guys have been going really well for the Bulldogs and someone like Jesse Bromwich has really grown since the Anzac test."
The flipside is the form of the Warriors in his squad, as well as talismanic captain Benji Marshall.
"Benji has had an up and down year," admits Kearney. "But it will be good for him to come into a new environment. I've been spending a lot of time with him in the last few weeks and he will be fine."
It will also be something of a relief for Kearney to get back to the training paddock, after a trying 2012 during which he made a messy departure from Parramatta.
"It has been a tough year - actually a tough 24 months," says Kearney. "But I've grown from the experience and will take a lot of learning out of it. That's the best thing you can do."
- Herald on Sunday