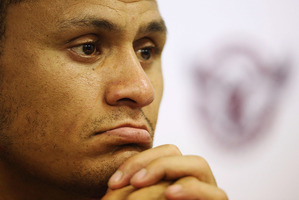 Forget about the head coach - it is the director of football role that will become all important at Mt Smart next season.
The new Warriors coach is set to be named this week, with a general manager of operations to be confirmed at the same time or shortly afterwards.
If - as the Herald on Sunday understands will happen - Storm assistant coach David Kidwell is ushered into the coach's chair at the Auckland club, with Matthew Elliott installed as the general manager, then much of the onus in 2013 will fall on the shoulders of the latter.
Given Kidwell's lack of head coaching experience at any level, he will need to lean heavily on Elliott, who has considerable experience in England as well as NRL roles with Canberra and Penrith.
Kidwell has been at the Storm the past two years as an assistant to Craig Bellamy. The Warriors are hoping that having worked with arguably the best coach in the NRL and been exposed to the systems and structures at the Storm, Kidwell will have learned enough to shift to Auckland and make a successful transition to head coach.
"Working with men like that you tend to be a 'doer' rather than a creator", says one insider, "which changes dramatically when you become head coach."
Kidwell is unlikely to be offered a long term contract as Warriors CEO Wayne Scurrah has previously indicated that a less experienced coach would be offered a relatively short deal.
Elliott is understood not to have been a contender for the coaching role and was content to take a back seat job since leaving the Panthers in difficult circumstances in 2011 and Bellamy has repeatedly ruled himself out of going anywhere before 2014.
In a further twist, former Manly and Kiwis coach Graham Lowe has been heavily involved in the appointment process, as an advisor to Warriors CEO Wayne Scurrah. At one stage it was believed that Lowe may also have been in contention for a formal position at the club next year but this now looks unlikely.
Of the other coaching contenders Tony Iro is said to still be in the frame and would in many ways be a logical choice (and the players' favourite as some have made representations on his behalf) but the Aucklander would be a hard sell to the fans.
Despite initial interest from the Warriors Tim Sheens now looks unlikely to cross the Tasman though he cannot be completely ruled out. Highly regarded strength and conditioning coach Craig Walker's future looks uncertain at the club, as he is considering a move back to Sydney.
Despite being poised to appoint what could be viewed as an underwhelming duo of Kidwell and Elliott, Scurrah is confident in both the process and the outcome.
"It has been an extremely robust process with a lot of potential applicants involved," says Scurrah. "Of course there are no guarantees [of success] no matter hard you look but we are confident we have covered all the bases."
- Herald on Sunday