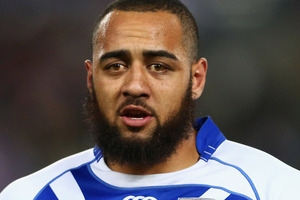 Whether Canterbury wins or loses the NRL grand final against Melbourne, former Australia prop Jason Stevens hopes their creative forward-based attack is embraced by rival teams next year.
Part of the Des Hasler revolution that has transformed the Bulldogs from a fringe finals team into the minor premiers has centred around the ball-playing ability of his forward pack.
Under Hasler props Sam Kasiano and James Graham as well as second-rowers Frank Pritchard and Greg Eastwood have been handed the task of playing as secondary halfbacks.
Passing before the line, offloads, tip-on passes and second-phase play have become the norm, taking the pressure off halves Josh Reynolds and Kris Keating and turning the Bulldogs into one of the competition's premier attacking units.
And Stevens likes what he sees.
"I really like it because I think there was a period there where rugby league was becoming so clinical and structured ...
it was almost like they were just upskilling athletes," Stevens told AAP.
"And they were fantastic athletes by the way, hard players. But (attacking football) wasn't so much encouraged.
"And I really think that's coming back and coaches are encouraging it.
"It's a good thing."
And Stevens, who is tipping the Bulldogs to claim their ninth premiership, believes it is the unusual style that will get the Dogs across the line.
"If their forward pack can gain momentum, they've got something that Melbourne haven't got in second phase with their forwards," he said.
"Not only second phase, they can do it before the line as well. Kasiano, Eastwood, Pritchard... they can do it through the line too.
"Melbourne's defence could nullify that, because their defence against Souths and Manly was awesome, but if Canterbury can get the ascendency that's where I think they can win it."
- AAP