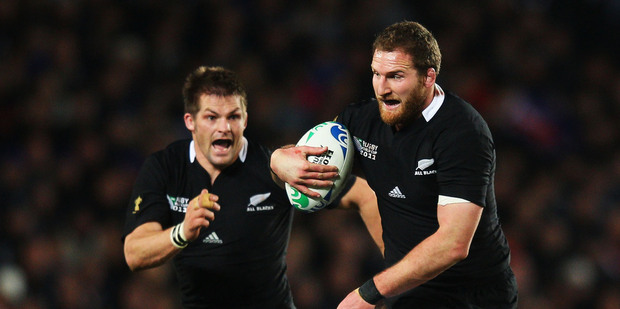 Argentina's skipper Juan Martin Fernandez Lobbe is a rising star in the game and a worthy challenge for his All Black counterpart, writes Patrick McKendry in Buenos Aires
Kieran Read stands alone as the world's best No8 but the gains Pumas opposite Juan Martin Fernandez Lobbe has made in this Rugby Championship mark him as a rising force and perhaps even the next best.
Pierre Spies also has claims to the title but a fractured finger on the eve of the competition set him and the Springboks back and now Lobbe, the inspirational Argentine captain, is making his move.
"I rate him pretty highly," Read says of Lobbe. "He's definitely right up there, I'd say. He's got some good skills and is a great leader of their side. And physically he gets around the track pretty well too."
Lobbe, 30, and a similar height to Read at 1.93m, though a little lighter, has been fantastic to watch in this competition.
The way he exhorts his team-mates to greater efforts has been a big factor in the Pumas' smooth and highly competitive entrance to the Rugby Championship.
The Toulon player, who took over the Pumas' captaincy role from Felipe Contepomi four years ago, is consistent and has a full range of ball-running and defensive skills, just like Read.
How the rivalry between him and 26-year-old Read, who will be All Blacks captain next year when Richie McCaw takes time out of the game, will be fascinating.
"I guess I haven't thought too much about scenarios but I enjoy playing against other top No8s and it probably brings the best out in me. That rivalry, it's going to be another tough challenge (today) and if it continues that would be great."
Although Read has had the better of Spies over the past few years at test level and in Super Rugby as the Boks and Bulls battle to come to terms with how they should progress in a rapidly developing game, he still believes the South African is a force to be reckoned with.
"Pierre Spies I respect because of what he can do with the ball. Each No8 has their own strengths so I guess what I try to do is be the best across the park, in every facet of the game, so that's my focus.
"He's still strong in what he does, which is with the ball in hand. But from our point of view if you can deny him that front-foot ball and put him under pressure then that takes away his main strength.
"I guess he'll be adding more to his game so you have to respect that and he has the time now that he is injured."
What sets Read apart is his consistency and impact. He thrives on physical confrontation and with former enforcers Jerome Kaino and Brad Thorn now out of the mix that's even more important for the All Blacks.
"I guess it's just my mental make-up," he says of his day in, day out, excellence. "You have to get into your routines. I think that's what makes great players - they are consistently at a high level so that's what I strive to do every week.
"I feel like I'm playing better this year. I've got more to my game. I feel like I'm adding more every week so I guess you want to put it out on the field. It's coming on but I can still improve, I think."
Read feels he is ideally suited to the type of game the All Blacks are trying to play - one built on width, pace and high intensity.
"I love it, it's great the pace we're playing at. I think if across the park we can increase our skill level and execution to go with that pace it's going to be really good. It suits my game in terms of being able to get out and run at edges (of defences) and use my skills differently rather than just crashing up the middle."
It's noticeable that over the past few years Read has taken more of a leadership role on the field for the All Blacks.
When McCaw is extricating himself the other players usually turn to Read for guidance at crucial times and that suits him just fine.
"I love it. Probably on the field I enjoy it (leadership role) the most. I just do what's best for the team and make sure everyone's doing the right things.
"I just do what I can to help out Richie and the other guys in the leadership group. We work pretty closely together to make sure everyone's on the page."
Patrick McKendry flew to Argentina courtesy of LAN Airlines.
- APNZ