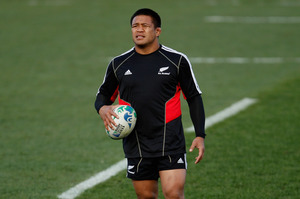 A six-month sabbatical for Richie McCaw but relentless grind for his team-mates - burn-out remains the All Blacks' biggest threat.
The hoary chestnut of player welfare slipped from the horizon last year: the World Cup providing a natural off-season and opportunity for the country's best player to summer and condition in line with their Super Rugby team-mates.
But now, like a giant ice-berg, the full scale of the new look season is coming into view - and it's not pretty. Super Rugby coaches can now see the expanded format has the potential to reap disaster - to virtually kill a number of key players with its sheer length.
No wonder McCaw is heading off on his OE early next year, without a decent break the All Black skipper would be in pieces by August. But what of his similarly aged and battle-hardened colleagues - what fate awaits them?
The All Blacks play their 14th and final test of 2012 on December 2 at Twickenham. Those involved in the tour will be required to report back for Super Rugby duty on January 28 with the first round of action scheduled for February 22. It's the usual story - the All Blacks will be denied the chance to properly recondition and prepare for the season - having to come into camp without a training base and straight into trial games. Every year they find a way through the minefield gradually building form through to May and the crunchy part of the season.
But this isn't a sport where corners can be cut and there will inevitably be a price to pay for making such hard demands of the best players. At some stage the body just won't do what it used to.
The set-up as it is, requires players to live on borrowed time: they are the human equivalent of heavily leveraged assets - laden with debt that at some point will be called in and they won't be able to pay.
There are numerous high risk athletes in the current squad: men the wrong side of 30 who have played a lot of football. Keven Mealamu and Andrew Hore are highest on that list; Tony Woodcock is on it, Daniel Carter, Ma'a Nonu and Conrad Smith are creeping up there, too.
If these players are asked to front on the first weekend of Super Rugby and push on through to late November 2013, the results are unlikely to be good.
It is an impossible balancing job for the Super Rugby coaches. They want their best players yet they also appreciate that they want them at their best at the critical stage of the campaign.
Play them too much too early and they could be burnt out by April: don't play them enough and the team's season could be over by April.
For the Blues, the draw has been relatively kind affording a bye after three games which may see some or all of their All Black contingent skip the first game, play the next two and then rest up again. It's not ideal, but it does take some of the edge off.
The Chiefs start with the Highlanders and Cheetahs which might see a few seasoned campaigners such as Liam Messam and possibly even Brodie Retallick, delay their return until game three.
Certainly, all five coaches will be mulling ways to build early momentum and yet not ask too much of their All Blacks in those opening rounds.
Woodcock is living proof of how valuable an extended break from the game can be. He triggered a clause in his contract this year to return to action four weeks into the season and while the Blues missed him, they received the full benefit once he returned as he was in the best form of his career. Not only that, he reached August mentally and physically fresh. "That four weeks off served its purpose for me," said Woodcock.
If Jamie Mackintosh stays with the Highlanders then he and Woodcock will share the workload at loosehead prop. Reduced training workloads have also been helpful for some of the older athletes, but still, it feels a little precarious: McCaw, as he should be, is being given every chance to push on to 2015 but not all of his team-mates are going to make it.