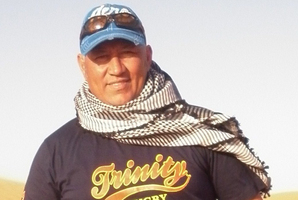 New Zealand cricket captain Ross Taylor met one of his childhood sporting heroes this week in Sri Lanka and the man in question is not renowned for success with a bat or a five-and-a half ounce ball.
Neil Foote was first-five for the Wairarapa-Bush rugby team during much of the 1990s. He earned 65 caps and Taylor marvelled at his skills as a lad growing up in Masterton.
Foote is now 43 and has been head rugby coach at Trinity College for the past two seasons. It is one of Sri Lankan city Kandy's most prestigious secondary schools.
To put the school's status in context, they have a roll of 3500 boys and share a rugby rivalry with Royal College in Colombo extending back to 1920. Crowds of up to 25,000 attend their annual rugby fixtures for the Bradby Shield over home and away legs. Guests are invited from overseas.
Taylor relished the opportunity to meet Foote at a New Zealand training session this week at Old Trinitians' Sports Club, a former cricket test ground.
Tournament tickets were exchanged for Foote's autograph.
The self-deprecating Foote says the lifestyle convinced him this was a gig worth investigating.
"I'm purely a rugby coach. I put in about two hours work a day," he chuckles. "It beats chasing criminals in Masterton. I came over at the end of 2010 and really enjoyed it. The boys are a pleasure to coach. They're like sponges whereas in New Zealand there can tend to be a 'we already know it' attitude. You see what you do in practice at the game.
"The early practices used to freak me out though. I'd put out grids and disturb snakes and scorpions. I'd jump as high as the crossbar and scream."
Foote left the police in March 2011 but has returned to New Zealand 10 times to visit what he describes as "the ex-wives and five kids back home".
"I had been doing child abuse stuff at the police and every now and again you need to take a break. I spent a rugby season in America and later Portugal. I realised I loved rugby more than the police and tried to jack up a deal in Germany. I then had a word to (former Waikato coach and well-documented rugby nomad) George Simpkin who'd been in Sri Lanka. I took a call from Trinity College out of the blue. I thought it was my mates taking the piss."
Foote knew New Zealand manager Mike "Roman" Sandle from when they did gang liaison work in the Wairarapa and Taranaki provinces respectively.
"Roman (Sandle) said Rosco (Taylor) is a Bushman and that he'd like to meet me," says Foote. "I captained the provincial side in 1997 and 1998. My great claim to fame is that I saw them down to the third division where they won the competition a few years later.
"If it hadn't been for me getting them demoted, they'd never have done it," Foote quips.
Andrew Alderson flew to Sri Lanka courtesy of Emirates Airline.