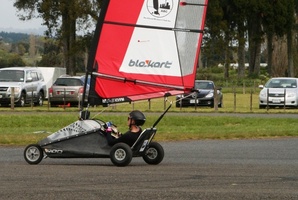 Auckland's Sarah Tootill is a nanny by night and a world champion blokarter by day.
The 20-year-old claimed the world title at the Ivanpah Dry Lake in the Mojave Desert on the border of California and Nevada in the lightweight division (less than 70kg) in April, only two years after a chance beginning in the sport.
"I had a go two years ago on the beach at Matarangi and I was hooked straight away," said Tootill.
"I love the sport and now that I have had some success I want to keep improving."
She said it was hard to come down to earth after claiming her first world title.
"It was a huge thrill to win at the Worlds. It was pretty close as it came down to the last event and I just got home by one point."
It was just reward as back home she has often played the role of bridesmaid. She knows that the competition will be just as tight as she searches for her maiden New Zealand title.
"I really want to win the nationals. I have come really close the past couple of years but I have just been pipped at the last race. Hopefully this year is my turn.
"There probably is pressure on me to perform as the world champion but I haven't really thought about that. I guess a lot of people would like to beat me. But the racing is pretty even and it's down to how you perform on the day."
Tootill, who urged other young women to take up the sport, says she is addicted to the speed of blokarting.
"The best thing about blokarting is going really fast. I love it. You can get the kart up to around 50km/h or 60km/h which is a huge rush.
"When we were overseas we got the karts up to 80km/h on the lake beds, which was a bit crazy but I loved it."
She says the key to blokarting is keeping your speed up as the wind changes and working out the angles. There are always plenty of people willing to offer advice.
"Everyone is really close in the blokarting community. I enjoy the race days because it's a good chance to catch up with everyone as well as really good competition.
"The standard here in New Zealand is actually really high and you see that when we go overseas. We are competitive and we need to keep improving to maintain that advantage."
Claiming her first national crown is her first goal but Tootill has a bigger dream in mind.
"I am going to work hard towards defending my title at the world champs in two years' time, that is a big goal of mine."