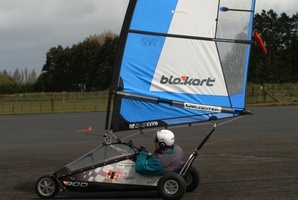 Wayne Osbourne knows he'll be a marked man at this week's blokarting national championships.
The 56-year-old Aucklander, who is a self-employed builder, has won pretty much every race he has entered in the past 12 months.
Osbourne won last year's New Zealand championship, the North Island, South Island and North America championships and he capped it off with a win at the world championships at Ivanpah Dry Lake in April.
"It's has been a dream run really," said Osbourne. "I have really enjoying competing and, yeah, of course it's always fun to win."
This week he is looking forward to the competition in his super-heavyweight division.
"There is quite a lot of pressure there," he said.
"Everyone wants to beat the world champion and the second and third best in the world are competing as well, so it will be tight. Everyone has something to prove."
He said the world championship win was an amazing feeling. It was the culmination of a lot of hard work at the Auckland Blokarting Club and they were happy to pull it off.
Osbourne, who has a background in competitive sailing, said blokarting was a test of both mental and physical strength.
"The appeal of blokarting is the combination of speed and skill. You can get them up to pretty good speeds. We hit 90km/h in the States and that was pretty scary at times but good fun.
"It's my absolute passion now. I have come from a sailing background so the combination of those skills on land is a winner. It's a great sport to be part of."
Advice for newcomers to blokarting
Advice for newcomers to blokarting?
Wayne Osbourne, 56, super heavyweight world champion: Listen to people who know what they are doing. There is a good community of sailors who are only too happy to help. We have a special division in competition for newcomers to blokarting and they remain in that division until they are at a pretty high standard. It's an easy sport to learn. People can pick it up really quickly at the fun level. Competing and racing takes a bit more nous.
Sarah Tootill, 20, lightweight world champion: Just give it a go. You'll get addicted to going fast and the fun of riding a blokart. I took it up over two years ago now and I have made a lot of friends and had heaps of fun competing. Now I am a world champion. But you don't have to take this sport seriously to enjoy it. It is easy to pick up and fun right from the start.