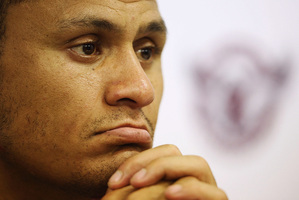 If the Warriors' head office in Penrose was the Vatican, those inside would be setting the fireplace about now.
The club intends to announce its new coaching and general manager line-up next week. Nothing is certain but, with most coaches originally in contention now ruled out, the smoke signals from the roof may well point to a combination of former Kiwis hard man David Kidwell and Australian veteran Matt Elliott.
Last night Australian bookmaker Betstar had moved Kidwell into a short priced $1.80 favourite to land the job, with Elliott moving in from $6.50 to $3.50.
"Most of the last few days has been on Elliott and Kidwell," spokesman Peter Fairbairn said.
Tim Sheens was next on the betting list at $4.50.
Of the dozen or so coaches linked to the job only Elliott, Kidwell and long-time assistant Tony Iro appear to remain in the running.
The Herald has been told Iro was granted a second interview yesterday, however he did not respond to a request to discuss the situation.
Short-listed Kiwis coach Stephen Kearney confirmed he withdrew from consideration on Monday.
"I've been presented with another job opportunity that I am very close to committing to," Kearney said.
Although he wouldn't reveal the nature of that job, he has always been understood to be reluctant to relocate to Auckland and has previously been linked with a return to his former job in Melbourne as an assistant to Craig Bellamy.
"It's better for myself and my family and it still allows me to continue to coach the Kiwis, which was very important to me," Kearney said.
Top target Bellamy isn't available next season and is widely expected to sign a lucrative contract extension to remain at the Storm, although the 52-year-old has steadfastly refused to clarify his position until after tomorrow's grand final.
Another short-listed candidate, Justin Morgan, told the club he would not be seeking the role after a second interview in Australia on Tuesday.
Deposed Tigers coach Sheens has not been officially ruled out, however reports coming out of Australia have consistently stated he has no interest in relocating to New Zealand. The same applies to sacked Roosters coach Brian Smith. Bradford coach Mick Potter is still keen on the job, but the Herald understands the Australian has not heard from the club in some time, indicating he is not in contention.
Elliott and Kidwell are believed to have interviewed favourably. Kidwell recently withdrew as coach of the Junior Kiwis for the test match against the Kangaroos in Townsville on October 13, suggesting the Storm assistant has other plans following tomorrow's grand final. Kidwell's departure from Melbourne would also tally with Kearney's potential return.
At the beginning of what has been a protracted recruitment process the club stipulated it was after a coach with considerable NRL experience, but having an experienced figure in the GM role would likely be seen as an acceptable compromise, with Elliott the logical candidate.
Having played a major role in Bradford's emergence as a Super League power in the late 1990s, Elliott has experience in building a successful club. While at Bradford he served as a mentor for Brian Noble, who went on to claim three titles over 4 seasons at the Yorkshire club.
However, Elliott's record at NRL level is less impressive, with his success rate at Canberra and Penrith hovering at about 40 per cent.
Having spent a single season as the Rabbitohs NYC coach - when he guided the club to a grand final defeat by the Warriors - Kidwell has limited head coaching experience, although he does have the advantage of having been immersed in the Storm system as a coach and player.
Chief executive Wayne Scurrah declined to be interviewed by the Herald. Via text message he refused to comment on the suggestion Kidwell was poised to sign as coach.
"Mate, I can't tell you anything," he messaged.
On Thursday, Scurrah indicated during a radio interview that the club would reveal its coaching line-up next week.
"Nothing is confirmed until someone has signed a contract but we are working toward having the new coach named by next week," he said.
"Eric (Watson) and Owen (Glenn) are totally committed and have added substantial resources to the club. It won't just be a coach appointed."